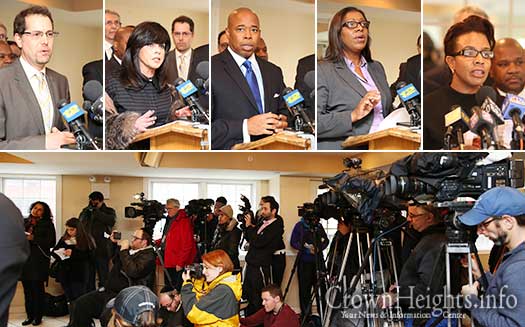 Politicians Hold Press Conference in Wake of 770 Stabbing
New York City activists and politicians held a press conference Tuesday afternoon in the wake of the stabbing of 22-year-old Levi Rosenblat, a rabbinical student studying in the main sanctuary of 770 Eastern Parkway – the Lubavitch World Headquarters. They called for unity and calm, and commended the responding police officers for their restraint.
The press conference, called by Brooklyn Borough President Eric Adams, took place just steps from where the attack occurred. Also in attendance were NYC Public Advocate Letitia James, NYC Assemblywoman Laurie Cumbo and NYC Councilman Mark Levine.
The speakers repeatedly commended the restraint of the police officers in dealing with the attacker, who only opened fire when there was no other choice.