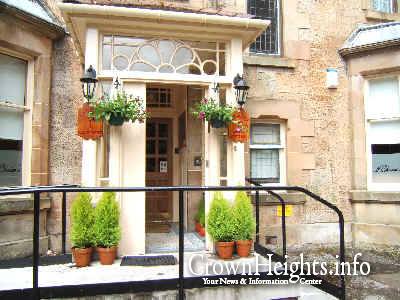 Glasgow, Scotland — The Jewish community of Glasgow now has for the first time a Glatt Kosher restaurant under the supervision of Chabad Lubavitch of Scotland Shluchim Rabbi and Mrs Chaim Jacobs and the Glasgow and West of Scotland Kashrus Commission.

It is currently open every Tuesday and Thursday evening and by arrangement. It will be open for tourists every day throughout August. This now makes it possible for hundreds of Jewish tourists that visit Scotland each summer to enjoy a real exciting Kosher vacation. See the website for info about accommodation, Shuls, Kosher food, Golf and tours to whiskey distilleries.
It's Salt beef and Latkes are among its most popular items on its menu. When you walk into L'Chaim's restaurant you are invited to dine in one of the two candle-lit dining rooms each with their own decorative ambiance. Its elegant setting and smart decor is ideal for a relaxing night out, family parties, professional lunches, and business meetings.
Once seated, freshly baked French Baguettes are brought to your table and the experience of first class cuisine in trendy surroundings begins. Tables are covered in burgundy and white cloths and all meals are served on modern square plates along with Kings cutlery and crystal glasses. L'Chaim's Restaurant is a first class restaurant which happens to be Kosher.
For more info see: http://www.lchaimsrestaurant.co.uk/