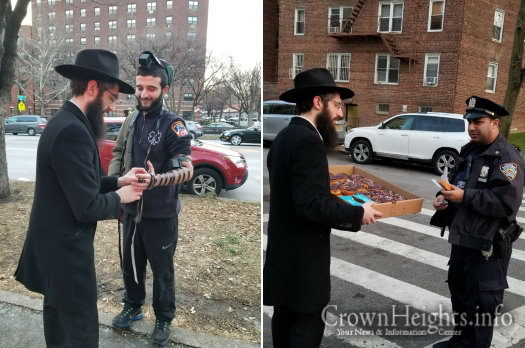 While law enforcement agents were searching the Kensington, Brooklyn, home of Akayed Ullah, the would-be suicide attacker who had detonated a pipe bomb in a Manhattan subway on Monday, Rabbi Yisrolik Langsam, who heads a Chabad outpost in the area with his wife Mushkie, arrived at the scene to pass out donuts and Chanukah menorahs and wrap tefillin with Jewish people present — from law enforcement, the media and passersby.
"Unfortunately the parents of the terrorist from today's bombing reside right here on Ocean Parkway and Newkirk," Mushkie Langsam wrote on her public Facebook page. "At a time like this, when there is so much darkness in the world, is when we need to add in light."
In that vein, Rabbi Yisroel Langsam and his wife were out in front giving out Chanukah Menorahs, Hot Latkes and jelly donuts, wrapping Tefillin and doing one more good deed with investigators, reporters and bystanders at the investigation scene in Brooklyn.