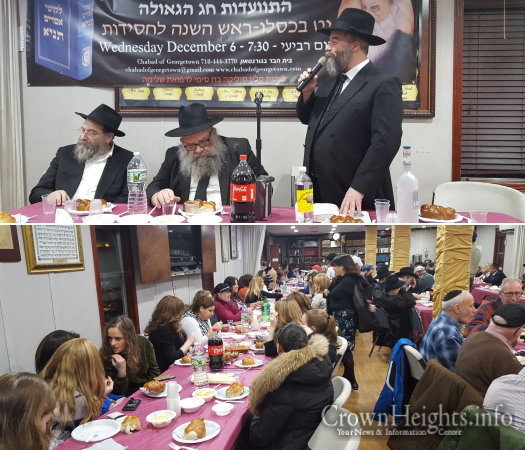 Hundreds gathered for a festive Yud-Tes Kislev farbrengen in the Chabad House of the Georgetown neighborhood of Brooklyn, headed by the local shliach, Rabbi Avraham Holtzberg. Following Chabad tradition, the participants were invited to partake of a festive meal in honor of the occasion.
Rabbi Holtzberg made his way among the tables, distributing L'chaim and encouraging the attendees to add in learning Chassidus in the upcoming year. A live musician was present as well, and the participants joined along in singing the uplifting niggunim of the Alter Rebbe.
Rabbi Holtzberg opened the event, and in his opening remarks he mentioned the name of a congregant in need of a refuah sheleimah. All those present joined in saying kapitel 130 in her merit.
The Keynote was given by Rabbi Mordechai Stern, a Rov and mashpia in Crown Heights. Rabbi Stern captured the audience's attention with his unique style, as he explained what Chassidus accomplished and how it can affect the life of every Jew, even in the twenty-first century.
Interweaving his speech with sayings and teachings of the Rebbeim, Rabbi Stern proceeded to explain the power of a Jewish neshamah and the significance of each mitzvah and good deed we do.
Seated at the head table were Rabbi Chaim Meir Lieberman and Rabbi Shlomo Friedman, members of the central Lubavitch Youth Organization, which is responsible for the shluchim and Chabad Houses in New York. Seated there as well were Rabbi Chaim Shaul Brook and Rabbi Yisroel Shimon Kalmanson, members of Vaad Hanochos Belahak, the organization tasked with printing the Rebbe's torah in Hebrew.
Rabbi Lieberman also spoke to the assembled, sharing stories of the tremendous work being accomplished by the shluchim throughout New York, on behalf of the city's hundreds of thousands of Jewish residents and commuters.
Jews of all types and stripes attended the event, with the goal of uniting and getting inspired from the message of the Alter Rebbe's release. Many of them attend one of the shiurim that take place in the Chabad House on a daily basis and on Shabbos. But even those who don't made a point of attending this farbrengen, joining the thousands of Jews worldwide celebrating the Rosh Hashanah of Chassidus, the day when "the light and energy of our souls was given to us."