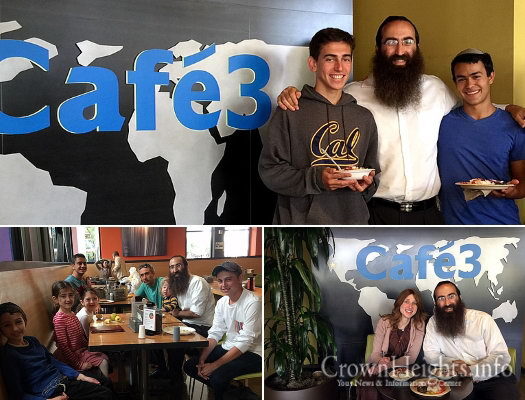 College freshmen have many worries in their first semester: handling their course load, meeting new people and adjusting to life away from home. But Los Angeles resident Natan Bentolila had an additional matter to contend with.
"My greatest concern upon getting accepted to the University of California, Berkeley, was the food situation," says the 18-year-old. "I knew I wanted to go to Cal, but didn't know what I was going to do when it came to finding kosher food."
That's because traditionally, there wasn't a dedicated dining option for students who keep kosher.
"We had kosher sandwiches in the dining hall or in the 'to go' areas, but it was just three kinds, and they never changed," explains senior Brent Freed. "Also, it wasn't consistent."
The opening of the glatt-kosher Café 3, at 2400 Durant Ave. in Berkeley, in August has transformed that. Those who adhere to kashrut can now use their meal plans to purchase freshly made hot food for lunch and dinner.
"It's a pretty dramatic change from what we had before," says Freed. "It's incredible, a really good option. I know Rabbi Gil and Bracha Leeds worked so hard on it, and I'm so happy it's worked out."
The Leeds, who serve as co-directors of the Rohr Chabad Jewish Center at UC Berkeley, are themselves graduates of the university and recall how challenging it was to keep kosher when they attended.
The rabbi says no kosher food was offered, so he opted out of living in the dorms and instead stayed in the Chabad House under the leadership of the Ferris family, the school's Chabad-Lubavitch emissaries at the time. "I even had a couple of friends who, after one semester of eating very basic foods like tuna and cereal, ended up moving in as well."
'More Inclusive Dining Program'
Those items are a far cry from the brisket, roast turkey with gravy and cranberry sauce, leg of lamb, roast chicken, herb-crusted salmon and other hot kosher items now being prepared for students at Berkeley. For those on the run, sandwiches and sushi bowls fit the bill. The cafe's certification is under the auspices of Va'ad Hakashrus of Northern California, led by Rabbi Bentzion Welton; the mashgichim (kosher supervisors) include Steve Leeds, the rabbi's father.
"There are close to 2,000 meals a day being served out of the cafe," says Leeds. "It's the equivalent of catering two weddings a day."
And it's not just students who are appreciating the food.
"The local community is turning out for this, too," he says. "It's an attraction for the Jewish community here and for people coming through town. Kids under 5 eat free, and for kids ages 5 to 12, food is just $7, so it's a good deal."
Helping to make the kosher-food dream a reality was Shawn Lapean, executive director of Cal Dining. "We wanted a more inclusive dining program and with Café 3 being kosher, as well as pork-and-shellfish-free, it has allowed many diverse groups that could not eat with us now be able to do so," he explains. "My job is to facilitate learning outside the classroom through food and services, where students want to gather, socialize, interact and learn from one another—not just about their studies, but each person's culture and life experiences."
The new kosher dining facility is certainly allowing for those kinds of interactions.
"It's an amazing opportunity to expose my non-Jewish friends to what it means to be Jewish," says Bentolila. "For many, I am the first observant Jew they have ever met."
Leeds notes that bringing kosher food to UC Berkeley, which took nearly a decade of work, fulfills a dream the Lubavitcher Rebbe—Rabbi Menachem M. Schneerson, of righteous memory—had more than 40 years ago when he asked a group of college students from London to ensure that kosher food was available throughout their school, and not just in one location.
It is also a testament, affirms Leeds, to all who came before them, including Rabbi Yehuda and Miriam Chaya Ferris, co-directors of the Chabad Jewish Center in Berkeley proper; and Rabbi Yitzchok Kaye, the Chabad emissary on campus when Rabbi Leeds was a student.
Bracha Leeds says "Café 3 is literally changing the entire face of Jewish life on campus."
Still, the new development doesn't mean that the Leeds' days of cooking for large groups of students are over—far from it. "This is a great option for students who are on the school plan," says Bracha Leeds. "But it's not a substitute for the family environment they get when they come to us—their home away from home—for Shabbat and holidays."