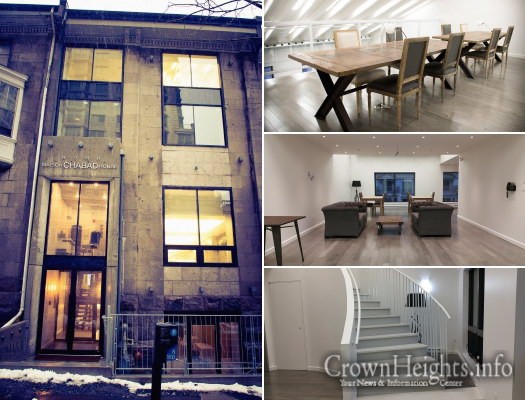 When Rabbi Shmuly and Rashi Weiss took on the roles of directors at Chabad at McGill nine years ago, they had three people around their humble Shabbos table. Within several weeks, as Rosh Hashana came around, they suddenly found themselves cutting each piece of schnitzel into four as their crowds had quickly hit 60 plus.
With the numbers climbing by the dozen, Rabbi Shmuly and Rashi had their eyes set on something bigger and better. But how much bigger and how much better they didn't know. "We knew we had to replace the entrance area to the Chabad House," Rashi said. "So it would be more inviting to new students who were wary of the center."
The small fixes and touch ups planned for the entrance quickly lead to plans of 'just renovating' this and 'just repainting that' until it quickly became apparent; simple renovations would not cut it for the ever-so-fast growing Jewish community at McGill University. After just three years on campus, a full-scale renovation and expansion was on its way!
In Early April 2016, while gearing up to host hundreds for Passover, the full transformation of "the humble three guests at the Weiss' first Shabbos table" to state-of-the-art and modern Chabad Center was complete. Surrounded by family, friends, students and supporters, Rabbi and Mrs. Weiss proudly re-opened the new Rohr Jewish Center at McGill University.
After remarks from representatives of the Prime Minister of Canada and the Mayor of Montreal, Rebecca Dales, the President of Chabad at McGill's student group addressed the crowd, thanking everyone gathered for their support and offering praise to Rashi and Shmuly for their unbreakable commitment to Jewish life at McGill.
Jesse Tepperman, the event's master of ceremonies then introduced Rabbi Shmuly Weiss. "Shmuly is a great Chabad Rabbi. He's a great teacher. He's a great mentor. But most importantly, he's a great friend!"
In his remarks, after thanking the supporters and offering words of Torah linked to the strong inspiration he draws from daily communal work, he summed up Chabad at McGill; "there's something for everyone. For some it's chicken soup on Shabbat. For others, it's a quick word of Torah. Yet, for others, it's a quiet place to study," Rabbi Weiss said. "Chabad at McGill is a place where every Jewish student can come and feel at home"
Mr. George Rohr, the projects primary benefactor, attended the grand opening and thanked Rashi and Shmuly and the other supporters for seeing this project through to the end. Mr. Rohr, who's family name appears on the center, spoke of his ironclad commitment to Jewish education, especially Chabad on Campus across North America.
Also addressing the crowd was Rabbi Moshe Kotlarsky, Vice Chairman of Merkos L'Inyonei Chinuch – the Chabad Movement's educational branch who also serves on the executive board of the Chabad on Campus International Foundation and Rabbi Berel Mockin, Director of Chabad in Quebec.
Closing out the evening, Rashi Weiss addressed the crowd, sharing her reflections on the transformation of Chabad at McGill. "When we first got here, we didn't know what to expect," she said. "We certainly did not vision the most amazing Chabad House imaginable!"
As she completed her address, Rashi invited the guests to tour the new center, which boasts a state-of-the-art commercial kitchen, a social hall which doubles as the Chabad House Shul, a beautiful lounge and soon-to-be full service café as well as a two-level library and study area for students.
"I mean, look at this place! It's magnificent," commented one of the students. "Chabad at McGill is definitely the place to be. I know it's cliché, but this really is our home-away-from-home."