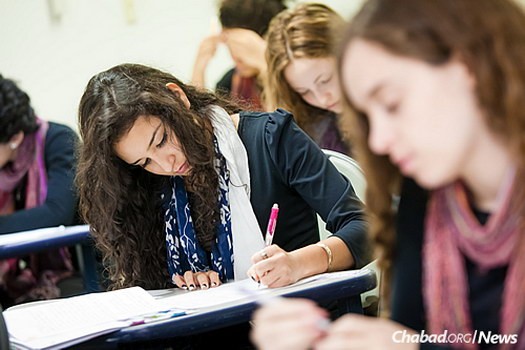 Affordable Jewish High School? Milwaukee School Proves It's Possible
When Jody and Steve Stein's son Aaron approached the end of eighth grade at his local Jewish day school, they began to research Jewish high schools. Living in Chandler, Ariz., they were within driving distance of two Jewish elementary schools, but no mainstream Jewish high school that caters to students wishing to remain on course to enter college four years later.
Like many parents around the country, they faced the stark choice between denying their son the education they seek or sending him out of town. Their dilemma is not uncommon. According to a recent study commissioned byHillel High School of Milwaukee, Wis., and CTeen (the Chabad teen network)—and conducted by Gainen Surveys LLC—most smaller Jewish communities in the United States lack Jewish high schools.
Ultimately, the Steins opted to send Aaron to Hillel High School in Wisconsin, which has separate parallel programs for boys and girls. The freshman is among the 16 out-of-town students who board with local families in the Milwaukee area in order to attend the school.
Using a unique model that blends a traditional classroom setting with much lower-cost online instruction, Hillel High is at the forefront of a trend that has already proven itself to lower tuition to a level seen by many as sustainable. In time, it is hoped, this model will allow many new communities to open Jewish high schools of their own.
High Demand; Few Affordable Options
The national study found that while 75 percent of Jewish community leaders said options existed in their communities for a Jewish day-school education, nearly 48 percent reported that there were no options at all when it came to the high school level.
Within the segment that did have high schools, close to 75 percent didn't find the available options suitable—either due to concerns for the quality of the secular or Judaic education, or because of their impression that the offerings weren't sufficiently inspiring for the teens.
"Parents are often more selective at the high school level," says RachelAbrahams, senior program officer at the Avi Chai Foundation. "They feel the need to be very sure that their children will be able to attend the college of their choice upon graduation."
The result is that day schools often see a steady stream of attrition as students grow older. An additional challenge to maintaining sustainable high schools is that the traditional high school model—where students are offered an array of subjects, classes and electives—is prohibitively expensive for smaller private schools, where almost all funding comes from tuition and donations.
'A Steady Growth'
Abrahams says "blended learning"—where students combine online courses with teacher guidance—is an "exciting option." In addition to allowing students to choose from a wider array of courses and proceed at an individual pace, it means that a single teacher or facilitator can simultaneously guide a larger number of students since the task of instruction itself is shared or almost entirely delegated to the online instructors. She also points to online learning as preparation for a workforce where more and more is being done via computer.
She cites Hillel High, founded in 2013, as an exemplary model of keeping costs down and quality up. Taking advantage of the local public-school system, which offers an entirely online high school track, students are able to balance a Judaic and secular curricula at a price significantly lower than what most schools need to charge in order to offer a comparable syllabus.
"There were two unsuccessful attempts to found community high schools here in Milwaukee in the past two decades," says the school's administrator, Rabbi Yossi Bassman. "Since we've opened, we've seen steady growth both from local students and families from around the nation looking for an affordable option for their children's high-schooling."
Regardless of the cost, the Steins note other reasons to send their son to Milwaukee. With a Judaic-studies department that emphasizes hands-on learning and giving back to the community through a host of volunteer opportunities, they felt that Hillel would fit well with the values their family had embraced through their experience with Chabad in Arizona.
"We were looking for a place where our son would be able to study Torah with the Chassidic warmth and perspective that he is accustomed to," explains Jody Stein. "The rabbis at Hillel have really reached out to Aaron and made him comfortable. They are even looking out for his physical health. Since he likes bowling, they arranged for him to go bowling. They are really loving, and that is a tremendous positive."
'The Way of the Future'
Nathan Woodward, a Hillel High sophomore from outside Boulder, Colo., transferred to the school directly from the public high school he had been attending near home.
"We really did not plan for Nathan to leave home," says his mother, Caroline Woodward, "but the hand of G‑d was so clear here that this opportunity was tailor-made for our son."
Living in an area with no Jewish infrastructure whatsoever, the Woodwards learned of the school when Nathan met Bassman at the CTeen XTreme Traveling Camp, which he attended in the summer.
"The Judaic studies are most important for us," says Woodward, "but Nathan has been working very hard and succeeding with the secular studies as well, really enjoying his advanced biology, English and the other courses he selected." The school posts the course load, so that students and their parents can monitor the individually paced work.
"This is the way of the future," says Abrahams. "We believe there is a lot of promise for better education at a better cost—something that will be emulated by more and schools."
The need for educational opportunities for Jewish teens has become more acute in recent years as thousands of youth have become Jewishly engaged through a host of youth initiatives, particularly CTeen, which now operates in 256 communities. Many of these teens have no access to local Jewish high schools.
"We see increased engagement and growth in thousands of teens' Jewish learning and experiences," notes Rabbi Mendy Kotlarsky, vice chairman of CTeen. "We must therefore ensure that we have expanded educational offerings for those teens ready to take the next step in their Jewish journey, including a sustainable, inspiring Jewish high school education is so critical in cultivating the Jewish leaders of tomorrow."