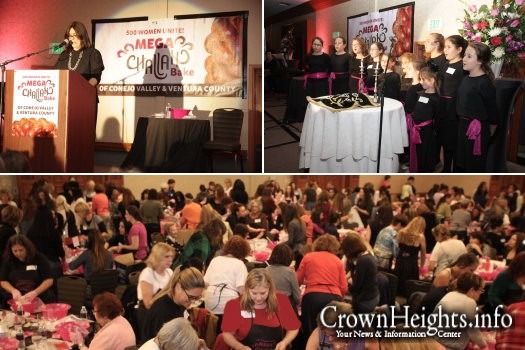 The Chabad Jewish Centers of the Conejo Valley in California hosted a Mega Challah Bake at the Westlake Hyatt. The event attracted a historic number of non-affiliated and local Jewish organizations of different affiliations including Hadassah, and Reform and Conservative Temples.
After an elegant dessert buffet, participants made two braided loaves from scratch.
While everyone mixed and kneaded, they were treated to a live concert of piano and flute.
Everyone experienced an emotional moment as Rebbetzin Matty Bryski acknowledged the Mothers of Lone Soldiers table at the event.
These mothers were on their feet to the sounds of "Am Yisroel Chai" to a standing ovation.
All the women then participated in a powerful challah meditation accompanied by live harp.
The music continued with a girls choir depicting a taste of Shabbos.
The evening ended with dancing; virtually no one remained in their seats.
The air was palpable with the energy of unity as 530 women danced and danced until they could no longer!
The feedback e-mails are still coming in, with women sharing how they "have hope for our future, hearing those children singing," and "want to do this every week…to have the smell of challah permeating my home…" to "I look forward to attending more Chabad events in the future."
This magnificent evening was directed by Shula Bryski and Devorah Leah Heidingsfeld, along with all the shluchos of the Conejo Valley: Tovi Bistritsky, Matty Bryski, Mushka Friedman, Bassie Gurary, Chana Stery Kahanov, Leah Levine, Brocha Sapochkinsky and Tzippy Schneerson.