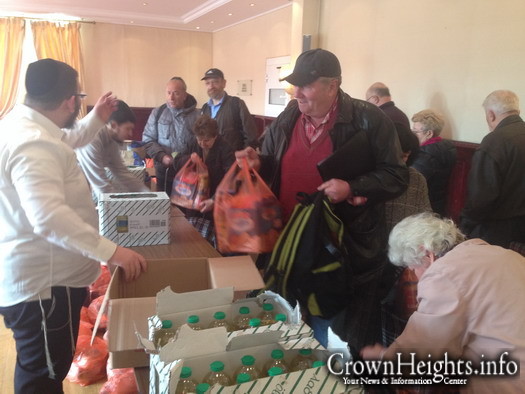 1,000 Berlin Families Receive Aid for Pesach
The Chabad Jewish Educational Center in Berlin prepared around 1,000 Pesach packages, with Matzah, kosher wine, gefilte fish, vegetables and other foods for the holiday. These packages were shared with those families which due to their financial situation could not afford celebrating Pesach properly.
"Especially now in the times of controversy regarding keeping Jewish identity openly in Germany, in the times of anti-Semitic acts around Europe, we find it extremely important to support our brothers and sisters and stay positive and be Jewish regardless the current situation. We are happy to support people and provide the opportunity to celebrate Pesach, even if they cannot afford it" – said the head of Chabad of Berlin Rabbi Yehuda Teichtal. "These days we are celebrating not only the freedom of our nation, but also the freedom of our spirit, which is exactly what needs support today."
The biggest Pesach Seder in Berlin, for about 350 guests, will take place in one of the largest hotels – located in the heart of Berlin – on April 3rd.