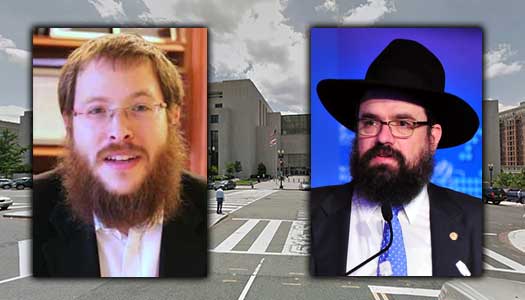 Hopes for 11th-Hour Peace Dashed; DC Court Bars Shliach from GWU Campus
A dispute between two Washington, DC, area Shluchim that ended up in secular courts has escalated, as a judge issued an injunction barring a Shliach from operating on and within one mile of the George Washington University campus. Hopes for an 11th-hour peace accord were dashed as the case moves forward.
Court proceedings took place Monday afternoon before DC Superior Court Judge Neal E. Kravitz, where lawyers for Rabbi Levi Shemtov, the plaintiff in the case, and Rabbi Yudi Steiner, the defendant, argued over a motion for an injunction by which Shemtov was seeking to bar Steiner from operating on and around the campus of George Washington University.
In his motion for an injunction, Shemtov sought to bar Steiner from doing Shlichus work "anywhere in DC, or suburban MD or VA," which is based upon the contract signed by both parties. On November 26th, the court rejected this 'non-compete' as 'overly broad' and 'going against the public interest doctrine,' and suggested that Shemtov file an amended motion for an injunction.
In his amended injunction request, Shemtov made 11 demands, including: that the Steiners be barred from doing any Shlichus work within two miles of the GWU campus boundaries, an inventory of all the Steiners' belongings so that it can be determined what has to be returned to Shemtov, that the Steiners not use the name Chabad of GWU or any variation of it, that the Steiners identify each and every donor that has ever given them or Chabad of GWU money or a gift, that the Steiners be barred from fundraising from those individuals for two years, and that the court should retain jurisdiction over the injunction in the case of a dispute.
Steiner responded that Shemtov's requests go against DC's public policy and law, whereby Shemtov is seeking to take a "32 word paragraph and rewrite it into a comprehensive 915 word and 11 individual section non-compete agreement."
Yesterday, both parties appeared before the judge and presented oral arguments. The judge issued his ruling against Steiner and granted most of Shemtov's demands. The only notable exclusion was the judge's modification of Shemtov's request for a 2-mile-ban, changing it instead to a 1-mile-ban. The judge's order was later signed in chambers and served on both attorneys.
Demands for Din Torah
Since the beginning of this dispute, Steiner has repeatedly invoked his right to a Din Torah, in which he questions his firing by Shemtov. Steiner reached out to Merkos and made those demands clear, and the Executive Committee of Merkos issued three separate directives – all of which were ignored by Shemtov, according to sources.
Steiner claimed that he did not violate the contract, and that Shemtov was deceptive in his presentation to a Zabla of Shluchim that was convened to determine if Steiner's firing was justified, only presenting enough information to make it appear as if Steiner committed a serious enough breach for him to be fired without affording him the ability to explain himself and why he believed it was not a violation of the contract.
What was the breach in question? Two donations, one for $800 and another for $300, which Steiner claims were personal gifts that went exclusively to feeding his family after Shemtov let many months pass without paying Steiner, eventually owing him a sum total of $50,535.54 in unpaid salary and non-payment of rents – which resulted in eviction notices for Steiner's personal apartment and the Chabad House.
Shemtov claimed that those were donations and not gifts, and were not declared and transferred to him in the allotted amount of time, which constituted a serious enough breach to empanel the Zabla and summarily fire Steiner.
The Executive Committee of Merkos instructed Shemtov twice to remove the case from secular courts and appoint himself a Rabbi to serve on a panel. Both requests went unanswered. A third request was toned down, reiterating the demand for him to appoint a rabbi but only requesting he delay the court proceedings pending the outcome of the panel of rabbis' decision. Again the request went unanswered and unheeded.
CrownHeights.info reached out to both rabbis Shemov and Steiner requesting comment. Rabbi Shemtov responded that he wouldn't have time at the moment due to an upcoming event, while Steiner outright declined.
Editorial: Why was the original article removed?
Against our stated policy, CrownHeights.info made the rare decision to take down the original article on this subject which we published on December 4th, titled "Shlichus Dispute Calls Territorial Claims into Question." Many have questioned what was behind that decision, and even more reached out, some to praise while others to criticize – accusing us of 'bowing to pressure.'
The actual reasons were entirely altruistic.
A group of individuals reached out to us and requested that we suspend the article temporarily. They were working on a possibility of reconciling the two parties, and strongly believed that the article would serve as a hindrance. Being that the request was made in a respectful manner and was a chance for us to help foster sholom, we happily obliged.
Unfortunately, some sought to paint the article's removal in a light that suggested that some 'legal threats' were behind the removal, rather than focus their efforts on the opportunity to render the article obsolete by achieving peace.
In light of the court case moving forward, clearly indicating that the efforts to achieve peace have failed, we have republished the original article, and will be publishing a follow up on this story in the near future.
Related Documents:
2 Shemtov Injunction Supplemental Declaration
3 Steiner Injunction Opposition
4 Students in Support of Steiner