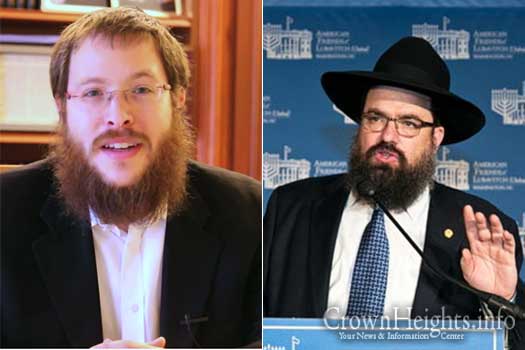 Rabbi Yudi Steiner (L), and Rabbi Levi Shemtov.
Shlichus Dispute Calls Territorial Claims into Question
A dispute between two Shluchim in the Washington, DC, area has spilled out into court, and an ugly brawl over turf and territorial control is once again threatening the spread of yiddishkeit to the tens of thousands of Jewish students in the area.
In a complaint filed in DC District Court by Rabbi Levi Shemtov, the Shliach to Washington, DC, he claims that Rabbi Yudi Steiner, the Shliach serving Jewish students at George Washington University, had violated the terms of his employment contract and was therefore fired.
Shemtov states in his complaint that the "defendants had violated two provisions of the Contract. Specifically, Defendants failed to timely transfer to him data obtained in connection with those services and failed to timely remit to him contributions received by them in the course of their services."
Prior Disagreement
Although this case had been initiated just a few months ago, the dispute runs much deeper and stretches back to 2008, just a short while after the Steiner family had moved to DC to start a Chabad House at George Washington University.
That dispute arose from reportedly unreasonable demands and burdens placed upon Steiner by Shemtov, who after resisting was promptly fired for the first time. When Steiner refused to abandon his Shlichus, Shemtov initiated a court proceeding against him, while Steiner demanded a Din Torah.
Shemtov balked and pressed on with his court proceedings in an effort to remove Steiner, but once Vaad Rabonei Lubavitch, the governing rabbinic authority over most matters that arise on Shlichus, had received Steiner's request for a Din Torah, enormous pressure was put upon Shemtov to withdraw his actions from court.
Once both parties arrived to the Din Torah and stated their claims, the panel found that Steiner was improperly fired. A new and detailed employment contract was drawn up and signed by both Shemtov and Steiner in 2012.
New Work Agreement
The new employment agreement spells out the exact terms of Steiner's employment, which precludes him from fundraising or arranging any programing without the expressed approval of Shemtov.
In turn, Shemtov was to provide all the costs for operating the Chabad House, including rent and money to cover programming expenses. Also, Shemtov was to provide Steiner with a monthly salary, health insurance, school tuition for his children and cover the cost of renting a three bedroom apartment near the university.
All donations raised through the Chabad at GW website were to be immediately transferred to Shemtov, who would then disburse the money to fund Chabad House activities. An addendum to the contract afforded Steiner the ability to raise $55,000 to cover the losses he incurred stemming from the first dispute.
Just two years have passed, and the agreement has not held up.
Breach of Contract
In the complaint filed by Shemtov, he claims that Steiner had breached the contract by not delivering 'reports' in a timely manner, and that he had raised money and not transferred it to him in a timely manner.
In his response, Steiner paints a completely different picture. He claims that for months Shemtov has been falling behind on paying the Chabad House's expenses – as well as his own salary, that he is already owed $50,535.54 and that his landlord initiated eviction proceedings against his family's apartment as well as the Chabad House.
According to the employment contract, Steiner has the right to challenge his termination by consulting a panel of Shluchim, a sort of Zabla, who will discuss the reasons for the termination, and their ruling should be "legally and halachically binding."
A panel including three Shluchim was impaneled; they included Rabbis Yaakov Fellig, Shliach in Coconut Grove, FL, Shaul Wilhelm, Shliach in Oslo, Norway, and Mendel Kaplan, Shliach in Thornhill, Canada.
In a statement, they concluded that based upon what was presented to them by Shemtov Steiner violated the terms of his contractual agreement. They further stated that they felt incapable of giving an actual Psak Din, and that it was merely their opinion.
Wasting no time, Shemtov emailed the Steiners a day after the Zabla panel met and informed them of their immediate termination, and that they were expected to "…conclude your work at GW peacefully within 30 days and without causing any discomfort to me or [American Friends of Lubavitch]."
Demands to Remove the Dispute from Court
Steiner turned to the authorities in Merkos Linyonei Chinuch and demanded once again to be afforded his right to a Din Torah, stating that he has meritorious claims against Shemtov, who was the first one to breach the contact by not paying him.
Shemtov in turn claimed that Steiner has no right to call for another Din Torah, since he specifically agreed not to seek any alternative recourse outside of the framework provided in the contract.
The executive committee of Merkos sided with Steiner, stating that it "is a Halachic issue that needs to be determined by Rabbonim. And since Vaad Rabbonei Lubavitch refuses to deal with this issue, the parties should resort to a Zabla."
The committee further decided that Steiner is to remain in his capacity as a Shliach until the matter is resolved, and that Steiner should restore Shemtov's access to his website in the same manner it was prior to his termination.
Also, the committee insisted that Shemtov immediately remove the lawsuit against Steiner from the secular courts, and choose himself a Rabbi to be impaneled in a Zabla. As of the publication of this article, those demands have not been met, with Shemtov filing new court papers as recently as Wednesday.
Who is Really in Charge of Chabad in DC?
In his response to Shemtov's lawsuit, Steiner claims that Shemtov misrepresented himself as the 'ultimate rabbinic authority' over Washington, DC, and that Rabbi Shmuel Kaplan, the head Shliach to the State of Maryland, "has a prior and more authoritative claim on communal and university Chabad activities," leaving political activities alone under Shemtov's jurisdiction.
Steiner states that "this claim dates back to 1978, and was agreed to by Rabbi Hodakov, then the Director of Merkos and Chief of Staff to the Lubavitch Rebbe. Shemtov's father, Rabbi Abraham Shemtov, also agreed to such division of jurisdiction in a signed letter to Rabbi Kaplan."
5 Shluchim Zabla Clarification
8 Steiner Answer and Counterclaim