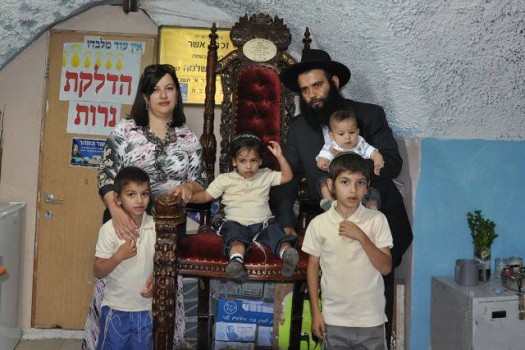 Rabbi Isakov with his family in Derbent, Dagestan region, Russia.
Chabad Shliach to the Russian region of Dagestan Rabbi Ovadia Isakov, who was shot and critically wounded last week by a Muslim terrorist and flown to Israel for medical care, has stood up and is walking around without assistance.
B"H he is recovering at a rapid pace.
After regaining consciousness a few days ago, Rabbi Isakov spoke about the anti-Semitic atmosphere of his city, Derbent. "At Sukkot, they threw a bomb into the women's mikvah of our synagogue, at our house, they threw a large stone, and now look what they did to us."
Nevertheless, Rabbi Isakov plans to return to his position as Rabbi of the Dagestan Jewish community without delay. "I already wish to return to my Shlichus," he said.