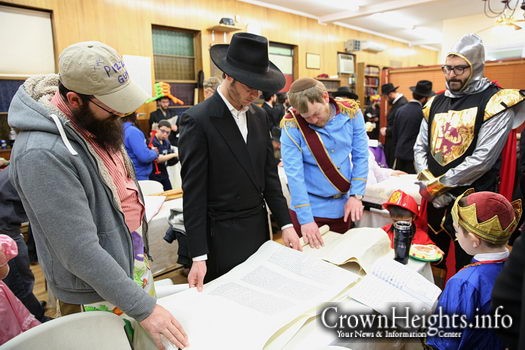 Purim at Itchke's Shteibel
Itchke's Shtiebel was founded close to 10 years ago on the premise of Ahavas Yisroel. It is a place where you can walk in without being judged, where you won't feel uncomfortable, where you won't be sure if you can sit at a table and feel out of place.
Itchke's Shtiebel is named after Itchke Gansburg of blessed memory, the grandfather of Mendy and Moishe Chanin Shyichyu who were both of the founders of the Shul.
The idea to start a Shul all began at the end of the farbrengen right before we say Slichos. A minyan was formed, and from then on the Shul has grown and blossomed to a leading Shul in our community, which has been involved in many great projects.
Just to name a few:
Itchke's Shtiebel was the first religious organization to use the platform of Indiegogo for a religious cause. They ran a successful fundraising campaign headed by Mr. Moshe Poltorak, one of the founders of the Shul and a marketing guru, to raise funds for a Sefer Torah in memory of a late member of the Shul, Kazi Benjamin, OBM.
When tragedy struck one of their own members and shook the entire Chabad community, Itchke's Shtiebel, in collaboration with many amazing people, ran a successful campaign to raise a million dollars. As a result many other frum people and organizations have come to recognize the platforms of gofundme.com and charidy.com, which have benefited them tremendously.
In addition, the Crown Heights community has benefited from campaign ideas, design ideas and financial help for building additional Crown Heights Mikvahs.
The fabulous shiurim and events that take place in this wonderful Shul are very much enjoyed by all. All of this is credited to an amazing gem in Crown Heights, the Shul's very own Rabbi Chaim Fogelman Shlita. With his love, care, kindness and leadership, the Shul has B"h accomplished a lot.
Itchke's Shtiebel would like to take this opportunity to invite the Crown Heights community to join them this Shabbos, Rosh Chodesh Nissan Parshas Hachodesh, for an uplifting, meaningful and spiritual Shabbos. This week they will have a special guest, a world renowned chazan, Chesky Soffer, for Kabolas Shabbos and Shachris, which will begin at 10:00am. They will continue after shabbos at 9:30pm with a Kumzitz, with lots food and drinks, for their annual Melave Malka.
Itchke's Shtiebel is located at 612 Maple Street, also known as Cong. Ahavas Moische.