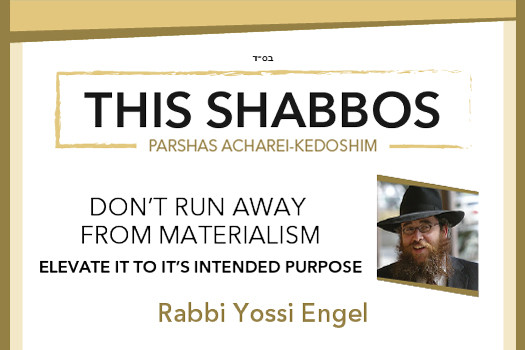 Shabbos at the Besht: Don't Run away from Materialism
This Shabbos at the Besht, Rabbi Yossi Engel, Shliach to Adelaide, Australia, will lead a discussion on the topic – Don't run away from materialism, elevate it to it's intended purpose.
Rabbi Yossi Engel first arrived in Australia as one of the 10 Bochurim-Shluchim sent by the Rebbe to found Sydney's Yeshiva Gedolah. Making strong connections there, he was asked by a community to serve as their Rov, and remained there for a year, before returning to NY. In 1989, he was instrumental in founding the first open Yeshiva in Moscow, in the former Soviet Union. After Kollel, he taught in Hadar Hatorah Seminary and served as the Personnel Director of its Yeshivacation. After serving as an assistant to LI Shluchim, he was accepted as the Senior Rabbi to Adelaide, Australia's Jewish community Shul and day school. As the Shliach to Adelaide, he now serves the needs of all Yidden in South Australia.