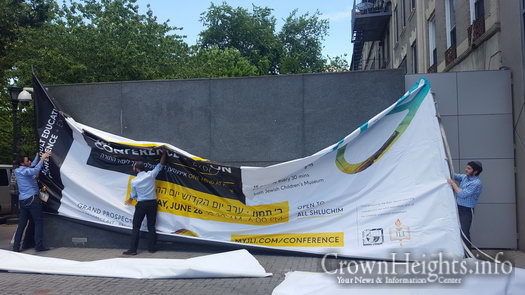 This coming Monday, 2 Tammuz, hundreds of shluchim from around the world will be gathering to strategize, enhance, and grow their adult educational activities in preparation for the upcoming academic year.
JLI is opening its annual conference to all Shluchim this year free of charge, granting all shluchim the opportunity to be trained by leading experts in public speaking, pedagogy, student engagement, marketing, branding and social media.
"The Rebbe charged all shluchim to conquer the world through Torah study," said JLI's Chairman, Rabbi Moshe Kotlarsky. "Our goal is to provide cutting-edge tools, guidance, and resources to allow each shliach to emerge as the paramount source of authentic Torah study imbued with the light and warmth of Chassidus, to every Jew in their community".
Shluchim will learn from the pros how to kindle an excitement for learning in their community, how to sharpen their teaching and class engagement skills, how to cultivate habit-building for Torah study, how to brand their Chabad Center as the premier provider for Jewish literacy, how to effectively raise funds, market and  and engage their wider community with JLI's educational offerings.
JLI will be unveiling over 20 new educational resources and products during the conference, to be featured at the comprehensive Expo along with multiple offerings by other Chabad organizations and providers.  New offerings include card-based social learning, innovative ideas for one-on-one study, a new home visitation study, new social media offerings and much more.
Highlighting the conference will be one of the world's most effective social media expert, Sal Litvak; Rabbi Yossi Jacobson on teaching tools; Rabbi Benjamin Blech, on dynamic pulpit speaking; Professor Lawrence Schiffman on upcoming JLI courses.
Fellow shluchim will share best practices and success stories in panel discussions and in fast-paced TED-Talk style presentations.
The conference will take place in Park Slope, at The Grand Prospect Hall, just fifteen minutes from Crown Heights.  Free transportation will be provided from the corner of Kingston Avenue and Eastern Parkway.
Free valet parking will be offered as well.  For more details, visit myjli.com/conference.
Click on images below to enlarge