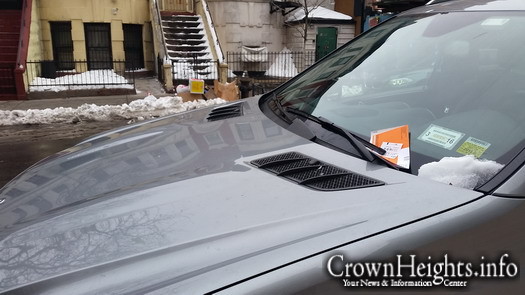 A CrownHeights.info reader witnessed a random act of kindness – or lawlessness, depending on your view – by a stranger in Crown Heights last week. Noticing that a parked car had received a ticket for lacking a meter slip, the man quickly purchased one for him and placed it on the windshield next to the ticket, enabling the car-owner to effectively fight the ticket in court by claiming he had paid the meter within the allotted five-minute time-span.
The photographer approached the man and asked him if what he did was legal, and the man admitted that the agent specifically told him it was not.
The photographer then asked the man if he thought was he did was ethical, and the man responded: "Without a doubt, yes. I'm sure that that car-owner, whoever he is, can use the money better then the city. Besides, it's not like the meter maids are any better. Look at him," he said, pointing in the direction of the agent, "he is standing by that car because he sees the meter is about to expire. He is waiting there so that he can write him a ticket the minute it expires. Is that ethical?!"
What is your opinion?