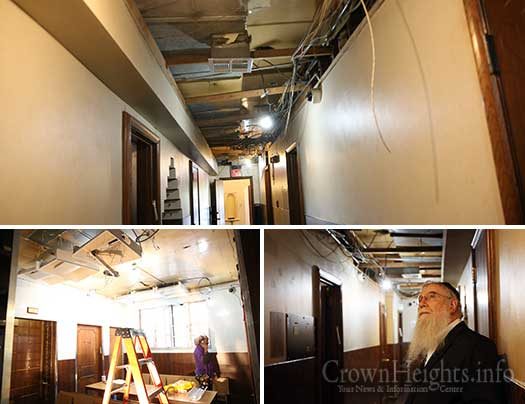 770's Upstairs Gets New Ceilings
In a continuing effort to keep beautifying and maintaining the halls and hallways of 770 – the Lubavitch World Headquarters, a new project is underway to replace parts of the new and old acoustic ceilings in 770's upstairs Shul.
This is another in a series of projects undertaken by Rabbi Chaim Boruch Halberstam, who was personally appointed by the Rebbe to the Vaad Bedek Habayis, charged with maintaining and improving the Shul.
In years past Rabbi Halberstam saw to the replacement of a damaged door and refurbishing of all the moldings, and more recently the replacement of the tables and benches in the large Zal.
Speaking to CrownHeights.info, he said that the ceiling tiles have begun to show their age, some sustaining water damage, and others simply collecting dust and dirt over years and no longer showing their original white color.
Also, an upgrade to the cooling system was necessary, and this was a great opportunity to do both, he said.
Hidden inside the old ceiling were speakers that were used to amplify Sichos of the Rebbe into the upstairs spaces and allow the overflow crowd of Chassidim to listen, as well as other evidence of the age of the building.