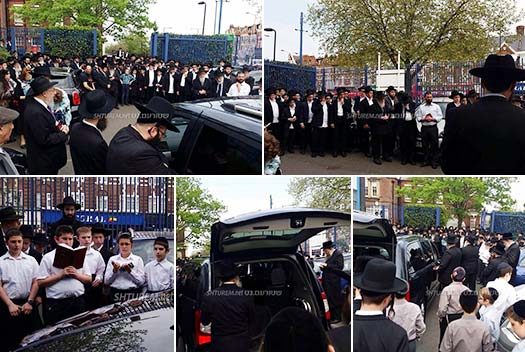 Hundreds gathered in Illford and Stamford Hill, London, to partake in the Levaya of Rabbi Moshe Muller OBM, a Shliach and father-of-eight young children who suddenly passed away Sunday.
The Jewish community of Ilford, a large suburb northeast of London, was plunged into mourning upon learning of the untimely passing of Rabbi Moshe Muller, 43, who served as assistant director at the regional Chabad Lubavitch Centre and assistant rabbi in the Beis Hamedrash Chabad synagogue.
The rabbi and his wife, Brocha, moved to Ilford in 1996, where they joined Rabbi Aryeh and Devorah Sufrin, who had been directing the center since 1983. The rabbi's responsibilities included youth activities throughout the year, koshering kitchens, wrapping tefillin, checking and replacing home mezuzahs, home visits to the infirm and housebound, under-35 Friday-night meals, classes and special programs, teenage summer and winter programs, festival programs and the day-to-day running of the center.
The rabbi suffered a sudden heart attack and passed away on Sunday.
In addition to his wife, Muller is survived by his mother, Jenette Muller; and siblings Rabbi Eli Muller, Rabbi Chaim Muller, Mrs. Malka Zarfati, Mrs. Yael Klyne, Mrs. Sarah Tuller, Mrs. Shoshi Serebryanski, Mrs. Tovah Vidal and Mrs. Rivkah Hershkowitz. The rabbi is also survived by hischildren: Chaya Mushka, Mendel, Shoshi, Yitzy, Shimi, Zalman, Yosef, and Avraham Yisroel.