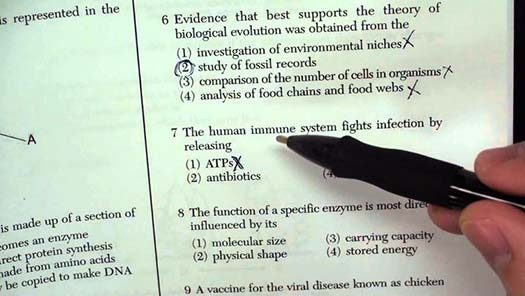 In a letter, one Lubavitch parent writes of his alarm at the content included in the Regents curriculum, lamenting its use and is concerned over its indoctrination in its subjects such as history and evolution.
by Berel
The Regents curriculum is increasingly evil.
Right, Evil.
It's repetitive and message focused, a process normally associated with what we call brain washing. Ecology and Biology are focused on ingraining kids with the idea of Earth's 'maximum carrying capacity' and the moral imperative not to have many if any children rachmana litzlan. Everything soft is minority focused. So called Transgender-ism is a thing. (We really need to do a serious internal study of the various components; this is what I've gathered from students being Mesiach Lefi Tumam.)
A new history curriculum is in the works and may be complete by 2019, it's so much a revolution over the past curriculum that in the interim 2018, while the new was being worked on but before it's actually available, NY simply exempted the kids from studying Regents history altogether. Typically, you'd study the old one while the new one is being worked out–why do we need a new History curriculum, again?– but in this case the 'new' history cancels the old, and I think we can assume we won't like what's in it.
Read that paragraph again and think about it for a moment.
There is a reason why the popular 'right' way to think is increasingly leftward and it isn't because the 'Youth' and Hollywood and the NBA/NFL/MLB and the Music industry are collectively more intelligent or more morally upstanding than the rest of us (spit), but because the education system has long been corrupted and turned into a vehicle to infuse the next generations with leftist religious dogma. And all the American cultural icons have converted.
Trust me, the only reason we aren't up in arms about what our kids are learning for Regents is because the schools are like that frog that gets put in a bath where the heat rises so slowly that that frog doesn't realize what's happening before being incapacitated, and parents don't know enough about this to be any more alarmed than when all we were dealing with was a little evolution garbage.
If you still think the major issue with the curriculum is 'evolution' you are in for a major surprise r'l.
This isn't just about al taharas hakoidish anymore (though that's certainly the root and core of the issue) it's that we are willingly exposing and encouraging our children to study and to test for competence in leftist religious doctrine. Slowly but surely, and we are seeing this now already, these insane ideas will gain currency in our midst, because even if the kids don't agree with them, the terms and ideas become normalized.
There's a world of distance between an idea that people believe in but we do not, and the stark raving, barking at the moon madness that constitute the standard leftist canon of thought that's being normalized among our youth through the curriculum.