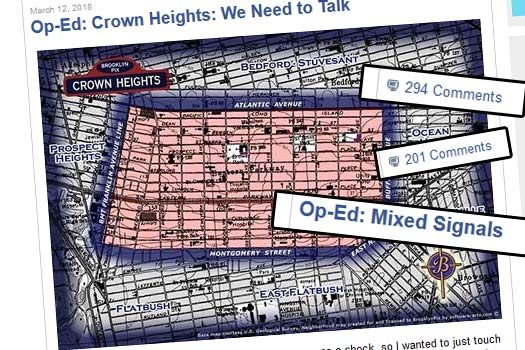 With the month of Adar just a few days behind us, a reader took a look back at some of the more controversial Op-Ed's that have been posted, and put together his "guide for writing the perfect Op-Ed," in an humorous tone.
by An Op-Ed Enthusiast
1) The best op-eds are Anonymous but anonymity puts people on edge. They end up commenting things like "What's your name"? I am brave I will put my name on the op-eds that I write, maybe not my real name, a combination of my middle name (that nobody knows) and my mother's maiden name. This will take away the anonymity element.
Better yet, I can categorize my name on the op-ed not as a Proper Name but more as an adjective with a noun. For example, if I were to be writing about the shidduch crisis I could go under the name "A Struggling Shadchan", if I were to be writing about the Tznius problem I would be "An undercover Tznius Cop" and if I were writing about the high cost of living in the neighborhood I would be "A concerned hard working early-rising Amazon reselling real estate agent crown heights father of 3 and another on the way". 
2) The best op-eds take aim at everything and nothing at the same time. I will take aim at everyone but at the same time I will never spell out what exactly I am saying. I will verbose. Verbosity is important. If I were to be addressing the problems with tuition and education, I would write ambivalent views in the same sentence so that people can be confused and at least I will get sympathy from some people in the comments section.
Like my op-ed will say like this:
"We face a tuition crisis of epic proportions, I propose that we raise the salaries of teachers, lower tuition, give our kids the best education and have no extra costs ever and some teachers should not be paid so much because based on my theories the tuition crisis is not a crisis at all, it is more like a tuition issue, crisis is reserved for Shidduch Crisis because it rolls off the tongue better." 
Tell me that there are people in the world that could disagree with any of the above?
3) A great op-ed needs to be controversial. At the very least have a controversial headline and then be watered down. For example, a good op-ed title would be, "Who would be kicked out if Trump ran our Community?" and the article will explain how we all need to come together and not kick anyone out. It may be simpler to headline the article "A controversial op-ed by a problem-ridden neighbor." The first sentence of the article will be poetic as that draws people in. Like, "The community that I love that was once the apple of my eye now seems to be rotten but not to worry because things need to rot in order for great things to grow from them, I love the community". That is perfect ambiguous controversy.
4) I will not offer solutions. Solutions are not for op-eds, and solutions mean that we are moving on, op-eds mean that we are opening a dialogue. Solutions may stop the dialogue.
5) At the end of every sentence, I will put a disclaimer, don't judge. So it will be like this:
"We have a crisis with the traffic lights, DON'T JUDGE." I will create variety by adding in things like, "Live and let live". That would look like this, "we need to do something about the crime in this neighborhood, live and let live." 
In this way, people could be well aware that I don't intend to judge anybody in my highly judgmental article. And just remember, if you think I am judging you, you are actually judging me that I am judging you so Don't JUDGE".
These are the rules for the perfect op-ed!