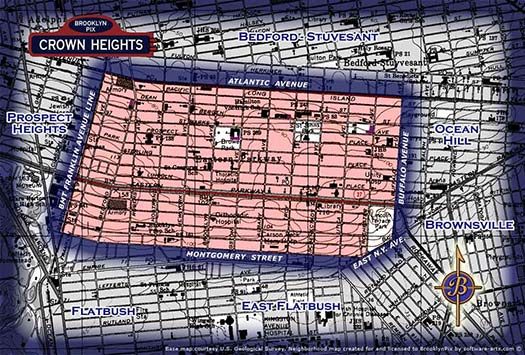 People are talking smack about you, this might come as a shock, so I wanted to just touch base. I'm only doing this because I care about you. I wasn't going to say anything, but it's what people out of town are thinking, I thought you should know.
The last few years there has been a huge exodus. People are moving to California, Monsey, Miami, and even Lakewood! When there are Lubavitchers moving to Lakewood, can we agree you have a problem? It's not fun to talk about, no one likes airing dirty laundry. The thing is, if we want to be honest, this talk is a long time coming.
Why are people leaving? That's the first question we have to ask. There are several reasons. Of course the big one, it's not remotely affordable to live in Crown Heights. You can generally find a decent apartment somewhere when you're first married, but as the kids get older, it just doesn't work. There is no parking, sure, that's a problem, and since Crown Heights is somehow pre destined to never expand its borders, there is a finite amount of space available.
In Boro Park, what was once a community that stretched from the mid 12th st and 16th avenue between the low 40's to the high 50's, now extends from the low 30's to the high 60's. In Monsey and other towns people have found new areas, new homes, new communities. Crown Heights did not ever succeed in this expansion, so we're left with the same small map. Yes, some of you have bravely gone past Lincoln or even towards Rogers, but let's be honest, 2 or 3 blocks isn't gonna cut it. Less land, less availability, higher costs.
This is all very true, and I'm sure many of you will comment, people are selling out! Cashing in! Maybe, maybe not. Maybe it's people who control the bulk of the homes in the center of Crown Heights either selling to friends or giving it to family, which maybe isn't even wrong, but no matter how you look at it, there is too many people looking and no one really selling. The thing is, this isn't why I've requested this little talk.
The real issue. It's your tone, your attitude, you seem bitter. It's no longer a warm place.
The tone has shifted to almost anger. No one wants to be painted with a broad brush. There are many very good people. Sadly, as is often the case, the majority is mostly silent. What's left is a cauldron of people that shame their friends, their co-workers, shame their family members and of course, shame their neighbors. It's normally shame that comes from whatever crisis of the month has taken over the town. Tznius, Eruv, Hashgacha, New Stores, Real Estate, and then there are things we shouldn't even mention on a website that are all discussed, at Shabbos tables, the shul table, the kiddush club table, the streets of Kingston, in offices, and waiting on line to buy groceries.
Maybe it's because it's too hard to find a home for yourself, maybe it's because the cost of living has gone up. Maybe you are regretful you aren't "getting out" also, maybe because others have left and are posting about their new homes that are 3 or 4 times in size. Maybe it's that you got another alternate side parking ticket. I'm sure you are going through a lot. We're all human. The problem is, the atmosphere you are creating in Crown Heights all the shaming, the anger, the loshon hora, it's hurting you. We all feel it.
It might be time for a break, maybe you need to rethink why there are those among us who feel so comfortable to speak badly about other Yidden. Maybe it's because you are in a conversation where people all have something really witty to say about someone and you want your 5 minutes of fame!. You'll get some cool points if you offer up someone else's hardships to the gossip alter.
Honestly, it's not important why, what is important is that the rest of the world notices and we're all wondering, what happened. Crown Heights, the shining city of Chassidis, Light,  the place where people found meaning, and love, where you come for a Shabbos and leave recharged, happy, and feeling proud to be a Chossid of the Rebbe.
We miss you. We would want to hang out and get to know that Crown Heights again.
Signed,
A former neighbor, but a continued friend.