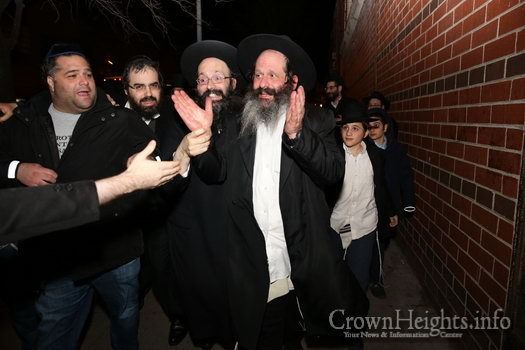 Shliach Responds to Jew 'Disgusted' by Rubashkin Joy
While most orthodox Jews reacted with joy and happiness to the news of President Donald Trump commuting the sentence of Sholom Mordechai Rubashkin, some expressed their dismay and "profound disgust" with the joy that followed the news. Rabbi Mendel Kaplan took to social media to call out those sentiments.
by Rabbi Mendel Kaplan via Facebook
To the sadly misguided fellow Jew who just PM'd [private messaged] me to share his "profound disgust" at my sharing Facebook posts expressing "delight" in Shalom Mordechai Rubashkin's wondrous release in the final (and most powerful) miraculous moments of Chanukah:
I am choosing to post a response publicly in the event that there are others thinking and feeling like you at this moment:
Nobody I know believes that "bank fraud is a Mitzvah," and frankly your making blanket statements about "Hareidi Jews commonly justifying white collar crime by cloaking it in a Talit of frum-piety" is anti-Semitic (yes, a Jew who passes judgement on a wide swath of other Jews who might act or dress differently then them is also guilty of the same abhorrent form of racism).
To be sure, Sholom Mordechai Rubashkin is not a saint and has definitely made some serious mistakes along the way. He is not alone. We have all made mistakes in life. And yes, it's also true that some people's mistakes might be bigger than others.
Yet your gleeful willingness to brand him a nefarious convict, stands in sharp and shameful contrast to your self-identifying as "accepting and non-judgemental."
To be so harshly critical of his errors, yet so accepting of others' behaviour smacks of incredible (and may I add egregious) hypocrisy.
I wholeheartedly agree that none should be "above the law." Defrauding financial institutions, cheating on income tax or illegally obtaining government funding is a crime. It is fair to say that those who break the law, deserve to be dealt with accordingly.
HOWEVER, a 27 year sentence for bank fraud cannot be justified. That was nothing less than a Dryfuseque display of horribly outrageous anti-Semitism in 21st century America.
The Frum community did not "broadcast tacit approval of criminality" it expressed a beautiful wave of solidarity with a Yid who was unjustly and harshly mistreated for the simple reason that he was (visibly) Jewish.
Quite frankly, to me it was painful (and in fact shocking) that the rest of Am Yisrael didn't care and instead chose to conveniently look away for the past 8 long years…
The tsunami of joy that you are now seeing flood the web and social media is a remarkable outpouring of Torah-true solidarity and the sincere brotherhood and kinship that should always be felt amongst ALL Yidden.
You are presently witnessing the truest meaning of Ahavat Yisrael, as thousands delight and rejoice in the redemption of a fellow Yid who was unfairly treated just because he was Jewish.
Be inspired by it. Or at least wish you could feel it.
I am not ashamed to admit that I cried upon hearing the news. Not because Shalom Mordechai is my friend. I don't really know him personally. But because, along with tens-of-thousands of others, I am privileged to feel a familial bond with a fellow Yid.
All I can say is that I wish you could feel it too…
If he was your terrestrial brother, you'd innately overlook his shortcomings and be happy for him tonight… that is the essential meaning of the Mitzvah of Ahavat Yisrael. Self-love blinds us to our own faults, love of our fellow should blind us to their faults as well!!
I pray that Hashem opens your heart and fills it with love… and may the beautiful Achdut Yisrael now sweeping the globe serve as the final catalyst for the arrival of our long awaited redemption through the righteous Moshiach, speedily and in our days, amen!