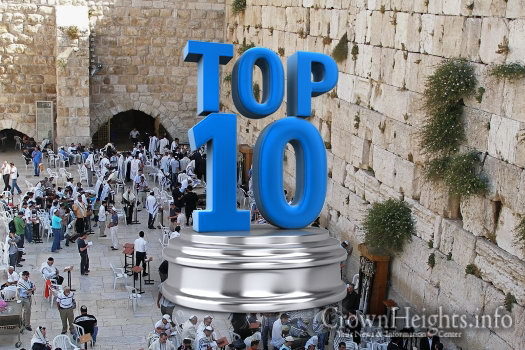 by Baruch C. Cohen
Every year, when the Jewish Telegraphic Agency summarizes the top ten Jewish moments of the year ("that had the most significance for Jews"), I am reminded of how out-of-touch and how irrelevant the JTA are to the Jewish community in general, and to the Orthodox Jewish community in particular. To say it blunty: your fingers are not on the pulse of the Frum pro-Israel world that I live in.
Let's review the events that the JTA deemed most significant: (1) Bob Dylan is awarded the 2016 Nobel Prize in Literature; (2) U.N. criticizes Israeli settlement, and the U.S. abstains; (3) Trump takes office, bringing Ivanka and Jared with him; (4) JCCs in U.S. and Canada targeted with more than 100 bomb threats; (5) Trump shouts down reporters who ask him about a rise in anti-Semitism; (6) On first overseas trip, Trump visits Israel; (7) Israel freezes pluralistic Western Wall agreement; (8) Chicago Dyke March bans three women for carrying flags with Jewish stars; (9) Neo-Nazis rally in Charlottesville; (10) Hurricane Harvey floods Houston.
Let's review the JTA's 11 most inspiring Jews who died in 5777: (1) Carrie Fisher; (2) Leonard Cohen; (3) Simone Veil; (4) Jerry Lewis; (5) Zsa Zsa Gabor; (6) Don Rickles; (7) Vera Rubin; (8) Otto Warmbier; (9) Ruth Gruber; (10) Henry Heimlich; (11) Sara Ehrman.
Seriously? Most of the events and Jews listed don't even appear in an Orthodox Jew's landscape, and even the ones that did, were editorialized in such a way to portray the events with a liberal left-wing agenda.
The acclaim of some of the JTA's Jews was that they: abandoned Judaism, intermarried, died from cocaine addiction, was buried in a Catholic cemetery, hurled insults at his audience members, and concluded that science was separate from religion.
Rather than harp on why almost all of the entries were off-base and irrelevant, I would like to suggest my own list of the most significant events and Jews of the past year and why they were relevant to my Orthodox community (to the embarrassment of the JTA for not including them):
1. Jerusalem's 50th Jubilee anniversary of its reunification: Hard to believe that it was 50 years ago that Jews and Jerusalem were at long last reunited. It took God all of six days to create the world; it took modern-day Israel the same brief length of time to liberate the holiest city in the world from the hands of those who never understood or accepted its true sanctity.
2. The Rise of President Donald Trump: Trump's election victory over Hillary Clinton ushered in the countdown to a new era in US-Israel relations. He made history with the signing of the largest-ever military assistance package between the two allies, a 10-year pact granting Israel a total of $38 billion in defense aid.
3. President Trump's Historic Visit to the Kotel: U.S. President Donald Trump made history as the first sitting President of the United States to visit the Western Wall in the Old City of Jerusalem. Wearing a crisp black sueda yarmulka, President Trump was accompanied to the site by his wife, First Lady Melania Trump, and by his Orthodox Jewish daughter and son-in-law, Ivanka and Jared Kushner, a senior White House adviser.
4. Three Orthodox Jews appointed to advise President Trump: As Mishpacha Magazine reported: Many US presidents have appointed Jewish advisors, but the Trump administration is the first to engage three observant Jews in three key foreign policy posts. For Jared Kushner, Jason Greenblatt, and David Friedman, it's a mixed blessing. They all face extra scrutiny and pressure — from Palestinians who openly level charges of bias, and from Israeli officials and pro-Israel groups who harbor great expectations of unconditional support that may, or may not come to fruition.
5. Ivanka Trump: America's Queen Esther to President Trump. She was seen visiting the Lubavitcher Rebbe's holy gravesite in Queens, NY, 3 nights before the general election. She took in a quiet moment of prayer and reflection at the Western Wall. She and her husband, Jared Kushner, keep Shabbos, including not using their telephones. After weeks of house-hunting and "shul shopping," the first daughter and son-in-law settled down in Washington's Kalorama neighborhood and attend a nearby Chabad synagogue. who is reported to have taken the moniker "Yael," a popular Jewish women's name. Yael was an Old Testament woman who, according to the story from Judges 5:24-27, killed enemy general Sisera by driving a tent peg though his head, enabling the Israelites to gain victory in a war. "We're pretty observant, more than some, less than others," Trump explained. "It's been such a great life decision for me. I am very modern, but I'm also a very traditional person, and I think that's an interesting juxtaposition in how I was raised as well. I really find that with Judaism, it creates an amazing blueprint for family connectivity."
6. Ambassador David Melech Friedman: Ambassador Friedman was nominated by President Trump on January 20, 2017 and sworn in as Ambassador Extraordinary and Plenipotentiary to the State of Israel on March 29, 2017. He was the first bilateral ambassador to be confirmed in the Trump Administration. Well known for his excellent public speaking, negotiating and interpersonal skills, he has been active for decades in U.S. policy as it relates to Israel and the Middle East. He speaks and reads Hebrew and has traveled to Israel extensively. An Orthodox Jew and the son of a New York rabbi, Friedman is a bankruptcy lawyer who has worked on Trump's behalf for the past 15 years.
7. Trump Named Jason D. Greenblatt, his company lawyer, Special International Negotiations Representative. An Orthodox Jewish father of six from Teaneck, New Jersey, who wears his kippah at work, Greenblatt has worked for Trump for the last 19 years dealing exclusively with real estate and company matters. His titles are executive vice president and chief legal officer. He has self-published three travel books, one about a family trip to Israel, and runs a parenting blog, InspireConversation.com.
8. The Appointment of Ambassador Nikki Haley at the United Nations: Israel has experienced decades of bias and disproportionate criticism from the United Nations, but the Trump administration—under the leadership of Haley, its ambassador to the U.N.—is vowing to chart a new course for the world body's culture on the Jewish state. During her speech at March's AIPAC policy conference, Haley described herself as the U.N.'s "new sheriff in town" and declared "the days of Israel-bashing are over." To quote Rabbi Chaim Dovid Zweibel of the Agudath Israel of America: "Your recognition of the adversarial attitude of elements of the United Nations toward Israel, and your repeated calling out of the same, constitute a refreshing breath of fresh air in the long polluted geopolitical atmosphere of Turtle Bay. Your recent strong and pointed address to the Human Rights Council, in which you straightforwardly denounced the Council's indefensibly negative focus on Israel, and the indiscriminate blacklisting of Israeli companies, is particularly appreciated. Also appreciated is your demand that "Agenda Item Seven," which you accurately characterized as "the scandalous provision that singles out Israel for automatic criticism," be dropped from the Human Rights Council's list of priorities. Your well-deserved reputation as a person of character and principle has only been enhanced by your words and actions in your current role representing our country."
9. Indian prime minister Narendra Modi's historic visit to Israel. Prime Minister Netanyahu said at the UN: "We were on a beach in Hadera. We rode together in a jeep outfitted with a portable desalination device that some thriving Israeli entrepreneur invented. We took off our shoes, waded into the Mediterranean and drank seawater that had been purified only a few minutes earlier. We imagined the endless possibilities for Israel, India, for all humanity."
10. After 70 years, the world is embracing Israel, and Israel is embracing the world. One year. Six continents: In the past year, Israel hosted so many world leaders, on six different continents. One year. Six continents. Prime Minister Netanyahu said at the UN: "I went to Africa, where I saw Israeli innovators increasing crop yields, turning air into water, fighting AIDS. I went to Asia, where we deepened our relations with China and with Singapore, and expanded our cooperation with our Muslim friends in Azerbaijan and Kazakhstan. I went to Europe, where in London and Paris, Thessaloniki and Budapest, we enhanced our security and economic ties. I went to Australia, becoming the first Israeli prime minister to visit our great allies Down Under. And just last week, I went to South America, visiting Argentina and Colombia, and then I went on to Mexico, becoming, if you can believe it, the first Israeli prime minister ever to visit Latin America."
11. Elor Azaria's trial: IDF Sgt. Elor Azaria, who shot dead a disarmed and injured Palestinian attacker in the West Bank city of Hebron in March 2016. Just as the O.J. Simpson trial exposed the fault lines and racial divisions in American society decades ago, the public reaction to Elor Azaria's trial and verdict revealed how sharply Israelis are split into deeply divided political and social camps. The trial stood out as being a watershed event. As a result of the trial, issues such as the importance of the rule of law and "purity of arms" came to the fore. In addition, the trial provoked discussion about the dissonance between the strict letter of the law and the gut feeling of wide sections of Israeli society.
12. Drastic Drop in Arab Terrorism in Israel: Although terrorists continued their murderous attacks, it was quieter than the previous one. In 5777, there were 17 terror victims as compared to 43 in the previous year.
13. The publication of the diary written by Gilad Shaer, one of the three boys kidnapped and murdered by Hamas terrorists in the summer of 2014. This 16-year-old teenager's diary revealed that he was a thinking and learning person who was very aware of the changes taking place within his soul and was always trying to improve himself.
14. Intel bought Mobileye in $15.3B deal, and moved its automotive unit to Israel: a leader in computer vision for autonomous driving technology, for $15.3 billion — the biggest-ever acquisition of an Israeli tech company.
15. The passing of Rabbi Meir Zlotowitz, founder of ArtScroll Publications – that produced more than 700 books, including novels, history books, children's books and even secular textbooks, and became one of the largest publishers of Jewish books in the United States. Then, he published the Schottenstein English Edition of the Talmud – a monumental, 73-volume work was published one tractate at a time, and completed in 2005 after fifteen years of painstaking labor. The worldwide impact of the Schottenstein Talmud has been unprecedented, offering thousands of Jews access to the Talmud. I do not know of a Jewish home that does not have an Artscroll Siddur, biography or book.
16. The passing of Rabbi Nisson Wolpin, publisher of the Jewish Observer, the flagship printed medium for the dissemination of Torah thought and perspectives.
17. The passing of famed Holocaust survivor and 1986 Nobel Peace Prize laureate Elie Weisel.
18. The passing of Israeli President Shimon Peres. Former Israeli President and Prime Minister Shimon Peres, a founding father of the country celebrated around the world as a visionary for peace.
19. The passing of Rabbi Shlomo Schwartz ("Schwartzie"), a Lubavitcher known for his colorful and unconventional approach to outreach in Los Angeles.
20. The passing of Israeli Holocaust survivor Yisrael Kristal, certified last year by Guinness World Records as the world's oldest man, at 113, survived by two children, 9 grandchildren and 32 great-grandchildren. He celebrated his Bar Mitzvah after a century-long delay.
21. The passing of Chassidic Master of Melodies, Eli Lipsker: He was known worldwide for the adult and children's choirs he led, the music he taught to thousands of students in Jewish Day Schools, and his recordings of Chabad melodies that publicly shared the rich musical heritage of Lubavitcher Chassidut. The Lubavitcher Rebbe called him "my Baal Menagen" – "my chief musician."
22. Swiss hotel singles out Jewish summer vacationers, demanding they shower before entering the swimming pool, and telling them they could only access a hotel refrigerator at set times. Even Israel's deputy foreign minister, Tzipi Hotovely, chimed in, saying the incident reflected the prevalence of anti-Semitism in Europe.
23. Two large regions in Belgium ban shechitah.
24. A junior member of Norway's ruling coalition announces it favors a ban on bris milah and that boys should decide for themselves when they reach 16.
25. New York elected its first ever Hasidic Jewish woman to hold public office in US: Rachel Freier, a New York lawyer and mother-of-three children, will this week begin work as America's first woman from ultra-Orthodox Hasidic community to serve as an elected official.
26. Deadline to Sign Rubashkin Petition: A petition for prison reform that can help Sholom Mordechai Rubashkin already has 48,000 signatures. Help them reach 50,000.
27. The emergence of Gal Gadot: Despite Arab nations' boycotts of "Wonder Woman" over the Israeli actress's leading role, Gadot wowed at the box office while giving Jews, Israelis, feminists and comic book aficionados much to be proud about.
28. Former National Basketball Association (NBA) star Amar'e Stoudemire's move to Israel and contract to play for Hapoel Jerusalem, a franchise he had partially owned. Stoudemire got an Israeli league championship with the Jerusalem team in June. He also earned Israel's Martin Luther King Jr. Award in February for efforts such as educating at-risk youths and providing safe drinking water in impoverished countries.
29. The Fire Intifada: massive wave of wildfires in Israel caused an estimated $520 million in damage. For eight days, firefighters battled 90 fires in 1,773 locations, with the largest blazes occurring in Haifa. Eight-hundred of that city's apartments were rendered uninhabitable, leaving 1,700 people homeless. More than 32,000 acres of land across Israel were destroyed.
30. Caves in Which Jewish Rebels Hid From Romans 2,000 Years Ago Found in Galilee: As the First Jewish War raged, villagers would hide in impressively inaccessible cliffside caves as the Roman armies marched through.
31. A boy with autism had a meltdown on a flight without any help, a Chabad Shlucha stepped up in a moving gesture.
32. Kallah Electrocuted in Her Home: Newlywed Shani Levi-Berdichevsky passed away during the week of her Sheva Brachos after being electrocuted in her apartment.
33. A frum mother of 6, who has been battling her ex-husband to allow her to raise her children in an Orthodox Jewish home, has been thrown in jail by an Ohio Judge.
34. Rabbis and Activists Visit the Pope: A delegation of Rabbis and activists visited the Vatican and spent 45 minutes in a private meeting with the pope. The delegation was led by Rabbi Edgar Gluck, a Boro Park resident and well known Orthodox activist who has worked tirelessly all his life advocating on behalf of Jews around the world.
35. Israeli Company Creates Breakthrough Parkinson's Treatment: In a medical breakthrough, an Israeli company has developed a successful treatment for Parkinson's disease. In a rare procedure, brain surgery was performed to treat Parkinson's and its subsequent shaking via ultrasound waves.
36. Rare Red Heifer Eligible for Third Temple Offering Discovered in Mexico: A red heifer, necessary for ritual purification, is one of the final elements missing for reinstating the Temple service. Incredibly rare, only nine red heifers were ever found from the time of the Tabernacle until the destruction of the Second Temple. Two red heifers were discovered, one in Mexico and the other, just ten days later, in West Virginia. The Heifer in Mexico was visibly unfit due to an ear tag attached soon after birth that created a disqualifying blemish, and it is unknown whether the Temple Institute investigated the suitability of the Virginian candidate. Nonetheless, the sudden plethora of viable red heifers seems to indicate the era in which they will be needed is imminent.
37. Exodus 7:18 Came to Life as Indonesian River Turned Poisoned Blood-Red: A river that meandered through a village in a lush corner of Indonesia suddenly turned shockingly blood red in August. Once the vibrant centerpiece of life in Pematangsiantar, the Bah Bolon river became a horror to behold, with dead fish floating in the bloody broth. No explanation could be found and local experts were as dumbfounded as Egypt's chief charlatans. Though not entirely rare, the vision of red rivers always evokes the archetypal first encounter between Moses and Pharaoh.
38. Ancient Toilet discovered in Tel-Lachish Revealed the Unique Way the Judeans Fought Idol-worship: Remnants of a small temple from the days of the Kingdom of Judah have been discovered at Tel Lachish, including the first physical evidence of a toilet – which had been purposely installed on a site of pagan worship, to defile it, even if the toilet never was used.
39. The Third Ancient Wall of Jerusalem was discovered: The Third Wall of Jerusalem: Where Romans and Jews Battled. Archaeologists believe they have found the third wall of Jerusalem described by Josephus. Israel Antiquities Authority (IAA) archaeologists presented evidence that they have located remains of the elusive Third Wall in the historic district known as the Russian Compound in central Jerusalem.
40. Orthodoxy's Smashing Success: Dr. Steven M. Cohen and other researchers present the bold reality of robust Orthodox growth and dramatic non-Orthodox atrophy and population decline, based upon these researchers' brand new study: "Turning to the Orthodox, we find wildly different trends. While just 40,000 are in their 60s, we have triple their number – 120,000 – in their 30s. And, perhaps even more astounding are the number of kids aged 0-9. They amount to 230,000 – over five times the number of people in their 60s. If 100 Orthodox grandparents gathered in shul, they could show their friends photos of 575 grandchildren on their smart phones (but not on Shabbat, of course). Only the Orthodox are having enough children to fuel population growth. Conservative and Reform Jews are falling well short of population replacement. We may compare Reform/Conservative Jews with the Orthodox at different ages. Among 60-69 year olds, the ratio of Conservative/Reform to Orthodox is 14:1. Among 30-somethings, it falls to just over 2:1. And among the children, it's less than 3:2, as Orthodox numbers have almost caught up to the combined Conservative and Reform numbers. The data clearly show how non-marriage, intermarriage, and low birthrates have taken their toll on Conservative and Reform population numbers. If the Conservative and Reform movements are to arrest their declines, it means helping younger Conservative and Reform Jews find partners to marry and supporting their decisions to have children. It means encouraging more non-Jewish spouses and partners to convert to Judaism. All of these worthy goals can be furthered by more participation in Jewish day schools, summer camps, youth groups, trips to Israel, Hillel, Chabad on campus and other ways of connecting adolescent and young adult Jews to one another have. And, let's not forget that parents, grandparents, and rabbis all shape the Jewish lives of children, teenagers and young adults."
41. The Solar Eclipse: We saw the publication of the Chofetz Chaim's reaction to a solar eclipse that he knew was going to be visible in his community. ""They should come to see. It is a mitzvah to see the sun eclipsed, to actually see that a creation was actually formed [by the Creator]"
42. The OU Makes It Unanimous: In its landmark ruling, barring its congregations from employing women rabbis (including but not limited to a ban on "Maharats," "Morateinus"), the Orthodox Union (OU) now formally has made it unanimous. They have gone on record alongside the Rabbinical Council of America (RCA), the National Council of Young Israel (Young Israel), and Agudath Israel (Agudah), setting forth plain Jewish law.
43. Orthodoxy's dealing with contemporary issues; How to constructively deal with all the drinking by kiddushim, shalom zachor's, weddings, schools; Dealing with Internet Addiction and Pornography; Throwing kids out of school; Self driving cars in Halacha; Dealing with the challenge of life after Kollel; Yoetzet; having lady poskim for women's halacha; For People whose Emunah has been shaken by science, listen to the worlds leading scientists and come away with renewed faith; What medicines, cosmetics and pharmaceuticals need a hechsher for Pesach; Social Media in Halacha: Loshon Hara? Tznius?; Treating a Terminal Patient and DNR.