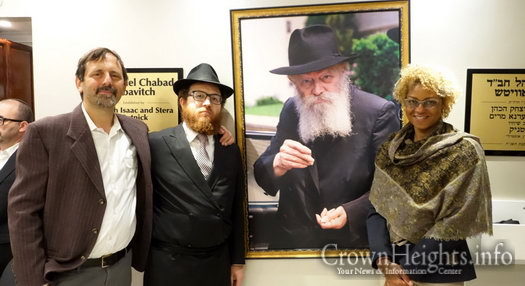 Ede Fox at the Rebbe's Ohel in Queens
Col. Jacob Goldstein, who served for 34 years as Chairman for the Crown Heights Community Board, explains why he believes community members should support Ede Fox in tomorrow's Democratic primary for City Council, and not Laurie Cumbo.
by Col. Jacob Goldstein
Last night Rabbi Eli Cohen, Executive Director of the CHJCC, called on every voter living in the Shchuna, telling them that tomorrow's vote is vital for our future, and that we all must go vote.
I cannot agree more with him on the importance of the vote.
Let me explain. 43 years ago I was placed on the old Community Board 8 as a member by Councilmember Ted Silverman, our councilmember at that time. 4 years later, it became Community Board 9, with the new boundaries it has today. For 34 years I was the Chairman, through good times and bad ones.
When Eric Adams became Borough President, he decided early out to fire the District Manager, Pearl Miles, who was excellent, and replace her with an incompetent crony who has been blocked by the courts for 22 months because of a lawsuit. This past February, I went to councilmember Cumbo as I had done in the past to reappoint me to the Community Board. We met, exchanged niceties, and she said to me "No problem I will reappoint you as in the past." But when I had one foot out the door, she said "I just want to double check one thing." I knew then and there she would not reappoint me. One half-hour before Shabbos, she called and told me she would not reappoint me. I filed a Federal Lawsuit against her, the Borough President and others, joining my District Manager, who did the same. We settled the lawsuit for a substantial amount of money.
My friends, Laurie Cumbo is a liar and NOTF friendly to the Jewish Community of Crown Heights. Early in her career, she attacked "greedy Jewish Landlords." Recently, she sided with the BDS people, and was one of just a handful of councilmembers who voted against a resolution condemning BDS. In a recent ad she put out, she spewed more lies. She claimed to give away bicycle helmets to our Community. Did any of your children receive one? She claims to have assisted in building the Jewish Children's Museum. She didn't know it even existed until 4 years ago, another lie. She gave money to COJO of Flatbush to stop foreclosures — why not our Community? After all she's supposed to represent us. The list of lies goes on.
Zoning is the major issue for our Community. Empire Blvd. is the main target for developers to rezone upward. Have you seen the large vacant single stores on Empire Blvd. from Rogers to Flatbush Ave.? The owners are awaiting Cumbo's election because she promised them that after her reelection the area will be up-zoned so that they can build tall buildings. This will be the death of our Community. Nowhere for our children to live in our Schunah. Priced out for others.
I have met with Ede Fox and discussed our housing needs, as well as other issues. Having served in Government at high levels for the past 45 years, I understand where they stand in their views, and where their feelings are.
Ede Fox will represent us well, and she will always have an open door for our community. Tomorrow's vote is the difference for our SURVIVAL as a community, as the REBBE wanted all his life. Vote Ede Fox like your life depends on it, because it does.