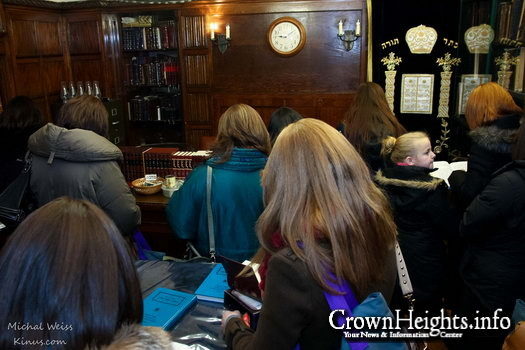 by Sarah G.
When somebody says the word tznius, the first thing that comes to mind is what we wear. Our apparel reflects our culture, our nature, our mood, and our social status. For us, clothing is the most external expression of ourselves. However, people don't often think that how we dress can affect how we are from the outside, in.
I grew up in a non-religious home with a family that loved being Jewish, but didn't necessarily know what it meant in practical application. The extent of our Jewish practice was (sometimes) going to shul on Yom-Kippur, spinning a dreidel on Chanukkah, and drinking Manashevitz. Being Jewish was a part of my identity, but it was never a part of my expression.
When I encountered Chabad on Campus in college, my flame was quickly ignited by the beauty and truth that I saw in this new side of Judaism that I had never been exposed to before. I became passionate about learning as much as I could, and heavily involved myself in the array of programs and services that this world of Chabad had to offer.
In my eager attempt to start keeping mitzvot, one of the first adventures that I embarked on was the mitzvah of tznius. One day I left for a program, and the next week I came back wearing the only three skirts that I owned. Yet since I knew that becoming frum wasn't a game, I cooled by ball-teshuva jet engines and decided to take the approach towards modesty slowly. I had been warned by one too many Rebbetzins that while jumping into the deep end might be fun, it wasn't the way to create what I knew would be a life-long commitment.
Living in a laid-back West Coast suburb, beach clothing, flip-flops, and 73 degree weather were an almost everyday occurrence. So at first, I started wearing skirts and ¾ sleeves, then my clothes became less form fitting, and eventually I warmed up to the idea of tights. As this slow progression in my wardrobe took place, I also noticed that my new approach towards modesty began manifesting itself in other ways.
I started noticing small changes in my life and the people around me. It seemed as though the conversations that I had with others were more genteel and authentic. The general approach that others took towards me appeared to be more careful and cordial. Coming from a college campus where anything goes, I noticed that less men were approaching me, and to my surprise, many of my acquaintances became surprisingly less verbal. People would come up and extend their hand for a handshake, instead of just going in for the common "hello hug".
At first, I was confused and surprised by these subtle yet noticeable changes. I wasn't any different; I was the same person, hanging out with the same people, in many of the same environments. So why were people all of the sudden treating me differently? I hadn't changed— or so I thought.
Many people could say that these changes have nothing to do with the way that I dressed, and were a result of the fact that I was being enlightened and inspired by the values of yiddishkeit. However, this was not the case.
It wasn't until years later that I learned chapters 3 and 4 of Tanya that speak about the garments of the soul. About how the only way a person can express themselves is through thought, speech, and action; and about how these, in turn become the 'clothing' of our soul.
It was only until I learned this that I realized what had happened. Without even being conscious about it, the way that I dressed had begun to change me from the inside.  My thoughts were different and I noticed that I held my head higher, I walked with a little more purposeful, and I had a bit more self-confidence. The way that I spoke to others shifted; I no longer felt appropriate dressing like a queen on Shabbos, and then sitting around and gossiping about people with my friends. Slowly, the people that I choose to surround myself with were of a higher moral stature than I had previously been accustomed to. People were treating me differently because without even knowing about it, I had changed from the inside, and they could see it.
One of the first things a baal teshuva does is put on a skirt and a long sleeve shirt because it's the most obvious changes that one can make for their yiddishkeit. What they don't realize, is that putting on that skirt will inevitable change them from the most internal of places; their mind, their speech, and their actions.
Surrounding the recent controversy, I thought it would be good to put things into perspective from the eyes of someone who is new to it all. Dressing modestly is about a reflection of the inside, how I view myself, and how I show that to others.
we can go to www.therebbesletter.com and read the moving words that the Rebbe wrote in a letter about modesty to all women. Even more so, we can give a beautiful gift to the Rebbe and to ourselves by taking a personal hachlata (commitment) in our own tznius journey, and entering it into the raffle to win a prize (just like I did)! We never know; taking this commitment might just change us from the outside, in — for the better — without even us knowing it.