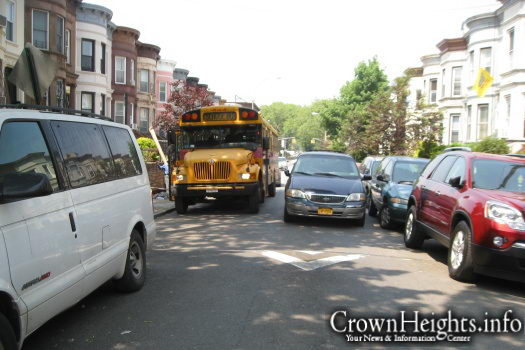 Illustration photo
A Shliach from a small town was visiting Crown Heights to stock up on months' worth of kosher food, only to face an urgent problem that happens well too often in our neighborhood – a problem which can be entirely avoided with a little bit on consideration.
by Anonymous
This past week I was in Crown Heights for a couple of days. As usual I had a list of errands to take care of. I arrived Sunday night and was scheduled to leave Tuesday morning. I took care of just about all my business, which included purchasing over $800 worth of Milchigs and Fleishigs to take back home, as there are no Kosher stores where I live.
Tuesday morning at 11:00am I packed all my perishables from the refrigerator and freezer into a few boxes and carried them to the front of the house. All I had to do was walk down the street to retrieve my parked car. It was at that time that I realized my car was locked in between a couple of other vehicles and a double parked car. I had no idea to whom they belonged, so I went door to door trying to find the owner but was unable to locate him. No one knew whose car it was. I tried honking my horn for close to an hour but no one arrived. There was no identification on the car to find the owner. My schedule was now derailed and my perishables were slowly defrosting in the 90 degree weather. Needless to say I was very frustrated! Finally at 12:25 the owner of the car arrived, and I asked him why he wouldn't leave any information as to how to contact him. He looked at me as if I had come from Mars, and said "what do you mean, I've been doing this for 10 years!"
All I wanted was to have the owner of the car move so I could give him my legal spot. I remember thinking that if this was an important medical appointment, I had to catch a flight, or had an important business meeting, who would I call and what would I do?
May I suggest that when you choose to double park on alternate side days, please be so kind and thoughtful to leave a number on your dashboard where you can be reached, so people that have things to do, places to go and people to see, can go about their business in a peaceful way with Menuchas Hanefesh and Menuchas Haguf!