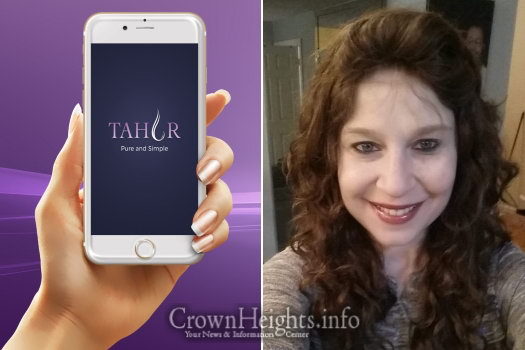 Kallah Educator Speaks Out Regarding 'Tahor' App
Rebbitzin Tzippy Weiss, Shlucha to Miami Lakes, FL, and a renowned Kallah educator, lent her voice to the brewing controversy involving the recently-launched 'Tahor' app, which allows women to submit Bedikah inquiries to a rabbi via photo.
by Tzippy Weiss
As a mother of 9, a Bubby of one, and married 23 years, the mitzvah of family purity is not new to me. Although I've been nursing or pregnant for the last 22 years, and I can count on my fingers the times I've gone to the Mikvah (ritual bath), it is a most beautiful mitzvah and one that creates and renews my marriage into a Godly and spiritual one.
Many might say this mitzvah is ancient and has no place in modern day life, but I disagree. I can share personal stories of many people who have started keeping this mitzvah on later in life and realized the immediate positive effects it has had on their families and marriage.
There is now an app that has been created to help women perform this mitzvah in an easier, more private environment. The app is called Tahor and without delving too much into the details, it enables women to ask private questions during their clean days while avoiding an "embarrassing" trip to the rabbi who's an expert in these laws. While there is nothing to be ashamed of and it's been going on for thousands of years (albeit very privately), today many women and even husbands would rather not visit the rabbi regarding these matters and would just rather "wait another day, or find another way".
From all of the women I have taught, new brides becoming more observant, women taking this on later in life, the mitzvah of mikvah has not been a challenge for them, but a welcome aspect in their lives. However, visiting a rabbi, or making a call regarding their spotting or staining has been challenging. When I teach them, most have said, "Tzippy, I love the whole Mikvah thing, but I'm just not going to be asking a Rabbi about such private matters. It's way too uncomfortable."
These women would rather wait the extra time, or justify on their own not going to the Rabbi, by way of saying it's all fine, or this little stain makes no difference.
How many women can this help? Many. Especially these ladies who aren't going to see a Rabbi.
I'm sorry to see that it has been under attack. Obviously the Rabbis do know what they are talking about and in an ideal situation this app wouldn't be necessary, but in today's world, it can be helpful, useful, innovative, and successful.
While Tahor has a number of Rabbonim who put out a Haskama and believe this app works, we, as a Chabad community need to give it a chance to iron out the issues and the Rabbis need to see, after much deliberation, discussion, and research if there are ways to make this work for the people who do not ask questions. If there's a will there's a way. There's so much that can be done with technology, and somehow someway this can work.