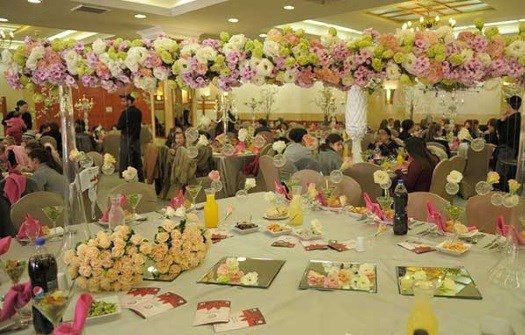 Illustration photo
by Anonymous
I am a mother of several girls in Crown Heights. Once again, I just had to deal with my newly entered 7th grader come home from yet another Bas Mitzvah with an entire shopping bag of prizes, and party favors. I can see the anxiety on my daughter's face. Will she be considered the "neb" of the class because her Bas Mitzvah celebration is going to be held in our house.
Being that I have several daughters in close proximity, I have seen the problem getting worse over the past 3 years. Apparently the norm is now to have a Bas Mitzvah celebration in a rented facility. I'm not talking about a Shul because your house is not big enough, we're talking big halls, both in the neighborhood and recently out of the neighborhood in more fancy locations where the girls are bused back and forth (and yes, families from Crown Heights, not Shluchim). Photographers (sometimes in the plural) are hired. Bands, DJ's, fully catered events, party planners, dance instructors, hair and make up done for the 12 year old. The list goes on. And as I mentioned before, the party favors. Some Bas Mitzvah's spend close to $50 PER girl! I've had my daughters come home with custom sweaters, personalized Tehillims, a Chitas for each girl, custom cookies and much more. People seem to feel the need to spend on the upside of $10,000 and more on what back in our days, was a simple party thrown in our modest home.
I am not on a rant here. And I actually don't begrudge people who feel they need or want to do this. My issue is with the girl's schools who sit back and allow this. They claim that they have rules and make the girls fill out these silly forms, but ABSOLUTELY NOBODY ADHERES TO THESE RULES!
Becoming a teenager is hard enough with basic day to day peer pressure. There are many problems with the lavish Bas Mitzvah's today. Firstly, the way girls from simpler homes (read parents drowning in debt from basic day to day expenses) feel when they just can't possibly measure up. These girls actually don't enjoy their own Simchas because they feel the eyes of the girls looking down on their basic party. And what about parents who are made miserable by the girls who simply cannot deal with the fact their party is not as fancy as the last one?
There are many schools out of the neighborhood, some with elite crowds who pay $25,000 tuition per year where there are VERY strict rules for Bas Mitzvah's. The rule is that you can only have it for your class and immediate family and it has to be in the school hall (lunchroom). And everybody follows the rules, because the rules are ENFORCED! Can you imagine a class where every girl feels like an equal? Isn't that beautiful?
So please, school administrations. Please change the way Bas Mitzvah's are run. Please enforce rules and force parents to stick to them! You could make a rule that the party needs to either be in your home or the school lunch room. It can be as simple as that. And you will end up with a grade of happy girls and ultimately happy parents.