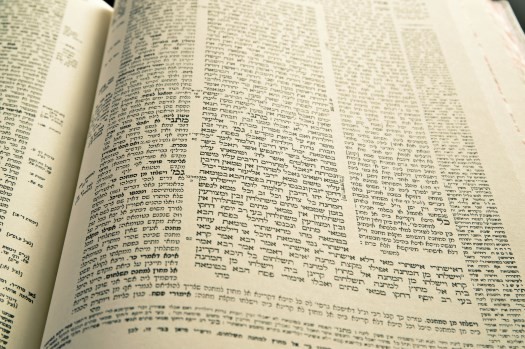 Illustration photo
by Alexander Heppenheimer
This Yud-Alef Nissan marks a milestone. Numerous Jews around the world, in and out of Lubavitch, will be talking on that date about something that the Rebbe always "koched zich" in – the importance of one single mitzvah.
That is because, in the course of the Daf Yomi* cycle, they will be studying daf 39 of Kiddushin, which includes this mishnah:
"Anyone who does one mitzvah is rewarded, and his days are lengthened, and he inherits the land."
(The following discussion in the Gemara – on 40a-b – also includes the famous saying quoted in the Rambam (Hil. Teshuvah 3:4), and which the Rebbe used to often cite, that if a person performs one mitzvah, that may tip the scales to good for himself and for the whole world.)
Noteworthy, too, is that Kiddushin 39 is the middle blatt of the Daf Yomi* study cycle. We might therefore say that the importance of one single mitzvah is the central concept of the entire Shas.
There are, thank G-d, several shiurim around Crown Heights following the Daf Yomi* schedule. This Yud-Alef Nissan, grab the opportunity to add one new mitzvah – adding to your daily Torah learning – and join us in celebrating this milestone and learning the second half of Shas! (And if you live elsewhere, there is likely a local shiur too; look them up.) Or, if you can't make it daily, at least aim to do so as often as you can, and "where one's thoughts are, there he is."
The shiurim that I know of are at the following locations and times. (If there are others, please note them in comments.)
Beis Eliezer Yitzchok (394 Kingston Ave.): Rabbi Tzvi Hirsh Lustig
Sun-Fri: 5:45 AM
Beis Eliezer Yitzchok (394 Kingston Ave.): Rabbi Don Yoel Levy
Sun: 8:40 AM / Mon-Fri: 6:30 AM / Shabbos: 1 hour before Minchah
OK Labs (391 Troy Ave.): Rabbi Don Yoel Levy
Mon-Thu: 3:30 PM
Cong. Anash (770 Montgomery St.): Rabbi Shlomo Holtzberg
Morning shiur: Every day: 7:30 AM (except Shabbos Mevarchim: 7:00 AM)
Afternoon shiur: Sun: between minchah-maariv / Mon-Thu: after maariv / Shabbos: 5:45 PM
Empire Shtiebel (489 Empire Blvd.): Rabbi Alexander Heppenheimer
Sun-Thu: 8:30 PM / Fri: between minchah and maariv / Shabbos: 4:45 PM
Dial-in: 530-881-1212, passcode 791-743-296#
***
*If you're sold on the idea already, feel free to skip the following. For everyone else, please keep reading.
"Daf Yomi in Lubavitch?" some will be asking. "What about the Rebbe's statements about this on Shabbos Parshas Shlach 5748?"
Well, lo mashpia ani velo ben mashpia ani; Lubavitch is, thank G-d, blessed with many veteran mashpi'im – and of course you should have your own personal one – with whom you can discuss this. But herewith are some thoughts on the subject, some of which I have gleaned from conversations with chassidim who were present at that farbrengen and heard what the Rebbe said. In good Gemara style, let's start with one point, ve-iba'is eima ("and if you want, I can say") another one.
It must be noted, first of all, that the transcript of the relevant portion of this sicha that is floating around on the 'Net is not only bilti mugah, but was in fact omitted from the published hanachos (you won't find it in Hisvaaduyos or in Sefer Hasichos). Thus, the wording there doesn't fully reflect what the Rebbe said. The gist, though, is clear enough: (a) there should not be chalshah daato (a feeling of being "left out" of something vital) about not participating in Daf Yomi and in its siyumim, since various Gedolei Yisrael at that time disagreed with that enactment, nor did the Previous Rebbe direct the tmimim to join in; (b) the reason for this is that time spent learning Daf Yomi is time taken away from studying one's regular daily studies – the ones that are a standard part of davening and those established by community leaders as needed, plus what one learns bemakom shelibbo chafetz: Mussar, Chassidus, pilpul, etc.; (c) studying Rambam every day is different, since that includes kol ha-Torah kulah.
(You'll also find people claiming that the Rebbeim's lack of support for Daf Yomi is because it is a project of Agudas Yisroel. Aside from the fact that there is not a single word to that effect in this excerpt, it seems grossly disrespectful to the Previous Rebbe and our Rebbe to suggest that they would oppose a Torah learning project for political reasons.)
So, then:
There needn't be a feeling of chalshah daato to start learning Gemara in this way. Certainly, we chassidim of the Rebbe who study Chitas and Rambam according to their daily schedules, and who learn "the chassidishe parshah," etc., have no reason to feel inferior to those who do otherwise. (Nor do those who do study Daf Yomi have any reason to look down on those who do not. The Previous Rebbe already dealt with that type in his sicha of 12 Tammuz 5692, describing those who think that their Daf Yomi study is earning them "a whole new Gan Eden built for them in the latest style," when in reality they are no more advanced than the yishuvnik of old who understood the importance of studying a blatt Gemara before feeding his animals…)
Ve-iba'is eima: For those who are maskilim or ovdim, who indeed spend their time on darkei hachassidus and on daily studies such as mentioned in the sicha, why then of course those take precedence, and they can (and should) ignore the invitation above. But let's face it – a person ought to think of whether his time is being well spent the way a chassid's should be – or, to put it baldly, whether perhaps he is defining his identity as a chassid less by what he does than by what he doesn't do. There are those of us who need some kind of motivation to change for the better. Perhaps what we need is to start with something that appeals to our nefesh habahamis as well – after all, finishing all of Shas is no small feat, and look at all the publicity generated each time it is done! – and mitoch shelo lishmah ba lishmah, in both the simple sense and in the sense that the Alter Rebbe explains in ch. 39 of Tanya (which we recently learned in Chitas). For the chassidim of yesteryear, such an idea – to learn Torah in a way that satisfies the yetzer hara – was (rightly) repulsive; for far too many of us today, it is rather a necessary and positive step in the right direction.
Perhaps, even, we can see this in the Rebbe's reference to Daf Yomi as an example of "learning Torah liprakim" (in fragments). For in Hayom Yom (11 Elul) we are told that the Tzemach Tzedek – whose 150th yahrtzeit is now being commemorated – related that in Gan Eden "liprakim" is understood in the sense of the Torah "taking one apart" and possessing him. We are in great need of that kind of "liprakim."
In another sicha – Re'eh 5742 – the Rebbe describes Daf Yomi (in a passage which, unlike the one from 5748, was published) as "connected with zechus harabbim." It is my prayer that the rabbim will take note and join in this zechus, thereby adding the "one mitzvah" that may be all it takes to tip the scales towards that time when "lo yelamdu ish es rei'eihu… ki kulam yeid'u osi" – with the true and complete Geulah miyad mamash.