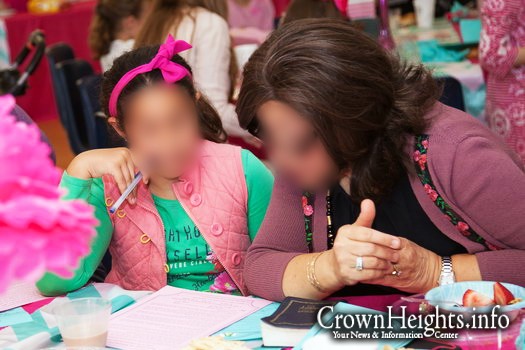 Illustration Photo.
Concerned that second graders in Beis Rivka are not being educated on the proper foundations of Chumash study, one parent and occupational therapist, Chani Klein, raised this concern with school administrators to no avail.
The following is an open letter she wrote to all Beis Rivkah parents:
To all Bais Rivkah parents, particularly those in second grade,
Bais Rivkah is, overall, a school who does its utmost to provide for our children's spiritual and academic growth. It goes without saying, that I am proud that my children are students of Bais Rivkah. However, in any institution striving for excellence and success in Chinuch, there is always room for improvement.
There is something that recently came to my attention that is very concerning. The second grade students are starting to learn Chumash without first studying the basic Chumash skills: Shorashim prefixes, and suffixes. This is similar to teaching a child to read without having taught them the basic underlying skills of letter recognition and phonemic awareness. It is like trying to teach a new language by having the child read a book and memorize the meaning of the words, without learning about root words, verb tense and so on.
In essence, the children are memorizing the Chumash words and their translation. This method relies solely on one skill: visual memory. In addition, this current method is not effective at helping a child recognize the same root word in another form; in a different tense or with different prefixes or suffixes.
I spoke with Rabbi Neuman, and he insisted that the children will learn these concepts towards the end of the year, and he has seen success with this method. I explained that in the interim, until they learn the underlying skills, the children are not being given the basic foundation to build on. What could be a clear system of rules that children can master to work out each key word presented to them, becomes an overwhelming challenge of memorizing hundreds of words, that to them seem to be unrelated. Therefore, it will and has already affected their self-confidence in their ability to learn.
I also informed him that as an occupational therapist, I am in the academic arena, and I have the knowledge and expertise in breaking down any task to its basic underlying components that are necessary for learning. Unfortunately, my phone call to him and another principal made no impact.
I reached out to other educators who confirmed that these foundational skills are taught to their students before even opening the Chumash. In this manner, with effective teaching, the students are well prepared to delve into a Pasuk. They are provided with the skills that enable independence and mastery.
Bais Rivkah has only to turn to other principals to gain from their experience and education to improve upon their curriculum. In addition, the Zekelman Standards for teaching Chumash and other Judaic studies are readily available through the Menachem Education Foundation. The MEF draws from the best and most current educational models and resources available.
I don't usually air my grievances in such a public manner; however, this impacts all of our children's learning; current and future second graders. It affects their self-efficacy and the development of their self-esteem. I implore all parents to call Rabbi Neuman and Mrs. Feldman in the hope, that with our collective voice, we can effect change.
Chani Klein