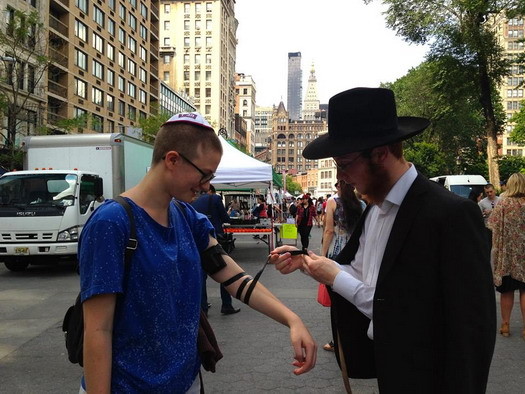 Rabbi Zvi Drizin, a Shliach in Dallas, TX, published on his blog the following open letter to Baci Weiler, a woman whose photo of her putting on Tefilin with a Lubavitcher Bochur – who thought she was a male – took social media by storm:
Dear Baci,
Must be a great day for you? You got 66 shares on your recent public Facebook post. A family member sent me the article about it in the Times of Israel telling how you suckered this poor naive Chabad boy into putting Tefillin on with you, a female, against what he believes. That poor boy who doesn't have "any concept of fluidity in gender expression" didn't realize that not only are you really a woman but you had already put on Tefillin that morning.
The idea of gender sensitivity and fluidity seems to be of importance to you, but the concept of being honest in your interactions are not?
Your friends on Facebook (at least 121 of them by last count) seem to love what you did, but what about that boy? What about the fact that this boy was just a nice guy who trying to help out another Jew in his way. Did he deserve the embarrassment of being a public sucker?  He is a real person with real feeling living amongst real people.
A good friend of yours recently reminded me of the importance of being sensitive to others who are perhaps not the mainstream when I had used, Caitlyn Jenner's previous name.  A "Chareidi" man is no less worthy of sensitivity than anyone else in society and our tradition is very clear about what the values of sensitivity are.
Baci, I don't know the boys name but he deserves an apology. Fast.
Zvi