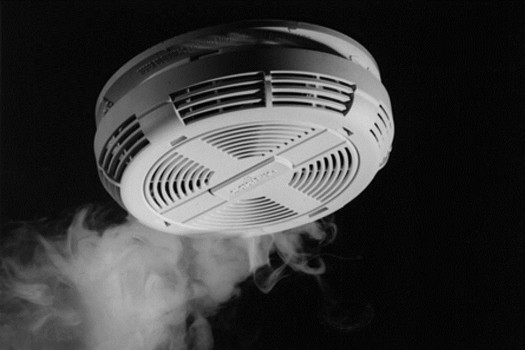 Op-Ed: A Call to Action
We all know the importance of having smoke detectors in our homes, but unfortunately most of us don't know enough about them. How many times have we heard about smoke detectors having dead batteries? Or no batteries? Or missing entirely?
And so we think that if we put in a new battery when it beeps for one, we've done our job and are protected. But are we? I recently investigated the situation and found out something that doesn't seem to be well known: the sensors in most detectors are unreliable after 10 years from manufacture!
Many new devices actually sound an alert after the 10 year point. Some older ones have an expiration date stamped on the back. Even older ones don't say anything. This means that there is a good chance that the alarms in your house or apartment may not be properly functional — even if you press the "test" button and it beeps. You see, that test button only tests the electronics and alarm, not the actual sensor. Yes, you could hold a lit candle near it for a while to test the sensor, but the manufacturers advise that if it is over 10 years old it could fail when you need it the most. It's just not worth risking our families!
Now, if you find, like I did, that your alarms are too old, you must replace them. And even if yours are ok, I'm going to suggest you replace them…
Here's why: First, it's an opportunity to add carbon monoxide (CO) detection as well as fire detection, because they now have combined devices. Carbon monoxide is a colorless, odorless gas that can kill. It can be produced by a malfunctioning (or just old) gas-powered furnace, hot water tank, stove, or oven. Your gas stove emits some carbon monoxide when in use. If you leave it on under a blech for Shabbos, there should be a window open in the kitchen. Better still, use an electric hotplate on a timer that shuts it off overnight when no longer needed. And if that hotplate looks old, battered and worn… please replace it!
Second, it's an opportunity to switch to the newest wireless, interconnected devices. I very highly recommend this option to provide proper protection for your family. The way these work is that if any unit in the house is triggered, it automatically sounds all of the other units. For example if a basement detector triggers a carbon monoxide alert, it would sound the alarm on the unit outside your bedrooms on the second floor. This is so important, because it is unlikely that a beeping alarm two floors below would wake you!
I recently replaced all my detectors. My house is quite large so I put two on each floor. One of each pair is a combined fire and CO detector, the other is just fire. They all interact with each other. Moreover, if one is triggered, they all announce verbally where the triggered alarm is, which helps plan a safe escape route. Knowing that the sensor near the kitchen has detected smoke can be a critical time saver. And in the event of an emergency c"vs, every second counts.
These units are not very expensive (about $35-55 apiece) when one takes into account that they provide safety and security for your family, and that they have a 10 year lifetime. Nonetheless, many large families may have trouble managing to put in the 2, 3 or more units required. And although these are not difficult to set up, they can pose a challenge to the not-so-technically inclined.
One can get help with information about smoke and CO detectors from your local fire department, however they cannot provide the level of support that we would want for our precious families. In my own community, the fire department officials were not even aware that these new wireless interconnected sensors were already commercially available!
I would therefore like to call for the establishment of community organizations to help subsidize the purchase and provide installation of these devices. I would hope that there are enough people of means who will step up and make this happen in their communities. I envision not only a fund that subsidizes the cost for those who need help, but also a small team of volunteers who will plan, install, and/or test the installed system for families. Much like Hatzolah who provide an invaluable service if there is an emergency, why shouldn't we support the formation of an organization that actually helps prevent emergencies?
One last word… please insist that your children's small schools and especially dorms upgrade to such a system. (Large institutions often have commercial systems linked to the fire department.) I personally know of a dorm situation where kids were in the basement while a fire was burning on the floor above them. When the detector sensed the fire, it sounded all the alarms in the building (including two in the basement), alerting them to a dangerous situation.