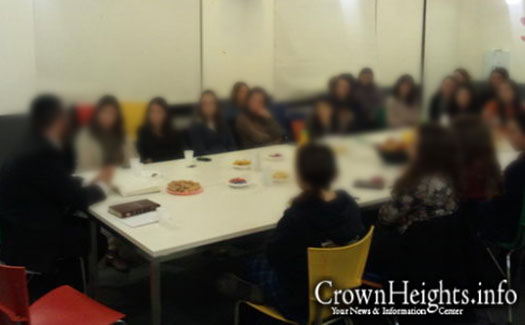 Illustration Photo. This photograph bears absolutely no connection to the article.
Op-Ed: Too Close for Comfort
A post-seminary Lubavitcher girl wrote the following op-ed, which she shared with CrownHeights.info on condition of anonymity, regarding the feelings of discomfort she and her fellow students would often have while being mentored by male rabbis and Mashpi'im.
The author, who acknowledges that the rabbis in question are likely oblivious to the discomfort of the girl/s in their presence, compiled a list of nine tips she wishes to impart to all men who educate and mentor young women, so that they may avoid any inappropriate and/or awkward situations down the line.
Too Close for Comfort – by Anonymous:
Having grown up in a family where no sensitive topic remained taboo or was ever swept under the rug (for better or worse), my siblings and I were in tune and sensitive to all kinds of sleazy, gross, or somewhat off putting behavior. We would later on discuss if this intuition was in fact correct, and more often than not, we were right.
As a high school student, seminary student, shluchah, and counselor I have seen my fair share of dedicated shluchim, rabbis and rebbetzins. I enjoyed my years and summers thoroughly, but unfortunately not all my friends were left with the same feelings.
I honest to G-d don't believe that every experience was vindictive or even on purpose, but the girl took it to heart and left with a bad taste.
We are encouraged to stay away from the opposite gender until the appropriate age. Yet, then we are having farbrengans late into the night with rabbis. Young rabbis, old rabbis, it doesn't matter. In fact principals are encouraging these bonds. To me, this is worse. These men have families and are committed. These girls are single and vulnerable.
I write this as a guide for rabbis and even female principals. I pity some of the rabbis we bad-mouthed. They did not realize how inappropriate their behavior was. Hopefully this guide will help you be more cautious.
These scenarios are all based on true stories. A friend of mine recalled a rabbi telling her to be more tznius. She never will forget that, and neither will my class.
Never in your right mind tell a girl she is not tznius, and this may even apply to your own daughter or wife. It's NOT your place. It's wrong, and very creepy. You will accomplish nothing. The girl will never look at you the same way and you will turn her off. She will most definitely repeat the story to many friends and you will be accused of a lot worse.
Your tone. Teasing, winking, combating, clever comebacks. They're not your daughters, sisters, or friends.
Speaking to girls after school. Avoid it. If necessary, make sure there are people in the vicinity.
When a girl goes away from home her defenses are down. I don't care how popular she is, she's not in her element and that's a fact. Small things to you may mean big things to her.
If you have to ask, "are you comfortable with this?" (This silly question was asked by several men) then skip it. Very few girls will say, "no, I am not."
You are the adult.
DRINKING. If you are speaking to girls, think before you drink. You may trust yourself, but it can be downright scary and uncomfortable for a girl. You can be the nicest tipsy person but it doesn't matter.
A girl told me that a rabbi at the end of the kiddush complimented her appearance. She left quickly knowing the rabbi would never remember it. Needless to say he never mentioned it, and that girl is still nauseous from the memory.
Late night visit to the dorm or counselor house? How about not? Leave it for the next day even if it's really important or have them meet you and your wife by a different location. Even if you leave a warning …there is always the one that did not hear.
Farbrenging late into the night. Nothing about that is chassidish, let alone frum. A farbrengan with a married man needs to have a time slot: half hour, forty five minutes…otherwise sitting around into the wee hours when peoples defenses are weak can be classified as sketchy. There needs to be a wife present and even then…A bnos head does not count! When a rabbi farbrenged very late into the night with my high school all I kept thinking was where is his wife?
Never put your wife down. I had a rabbi tell me, "please don't mention this to my wife, she doesn't understand these things." It was ridiculous. You are showing me who your priorities are.
Personal space. Make sure she has personal space.
**A note to female principals: Derech Eretz is essential in a classroom. However when too much trust is given to a mortal man, the blame rests on both of you. Why do you let alcohol by the farbrengans?
I've had female principals worship the ground a farbrenganer/lecturer walked on. Please don't be naive. Let everyone know you're watching and be responsible for the GIRLS you are entrusted with.