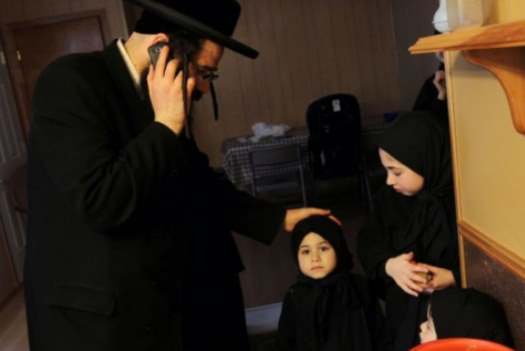 When I read the news this morning that two teenage girls of the Lev Tahor sect are undergoing a hunger strike after being separated from their parents by Canadian authorities, I came to the conclusion that I could no longer remain silent in the face of such a grave injustice. After all, if we don't speak out for them, who will speak out when they come for our children?
As the proud father of several beautiful children, who are my world and from whom I could never bear the pain of being separated, I realized that the same flimsy evidence used by the authorities to rip those children from their mothers' and fathers' arms could be used against me, as well as a majority of Frum families in Crown Heights, Borough Park and Williamsburg.
Quebec Child Protective Service workers went into the Lev Tahor community several months ago looking for evidence of child abuse, based on allegations from some of the group's detractors. They found none. Instead of apologizing for the intrusion and leaving empty handed, they asked a Quebec judge to allow them to remove the children of three families based on their claim that these children were perceived to be lacking in education, hygiene and nourishment.
Allow me to address all three allegations, and how meaningless they are.
Education: My 12-year-old son learns in Oholei Torah. He is a budding Talmid Chochom, and I am thrilled with his education Al Pi Taharas Hakodesh. In my opinion, my son is very well educated, but the Quebec authorities might beg to differ. My son cannot name the Prime Minister of Canada, and has very little knowledge of geography, arithmetic, science or American history. To them, he and all of his classmates are uneducated.
Hygiene: My children are very active, Boruch Hashem, and like to play outside often. They come back 85% of the time looking like coal miners. Am I or my wife able to make sure they are always perfectly clean? No. What are the odds that if a random inspection was held in my house, they would find some of my children dirty and "unhygienic"? In the Lev Tahor community the odds were about 12%. I wouldn't give myself such good odds.
Nourishment: Some kids are obese, some kids are skinny, and some are in between. The Lev Tahor community has very strict dietary guidelines that are based on a stringent interpretation of the laws of Kashrus. They eat mostly homemade and non-processed foods. (Imagine a Lubavitcher Pesach all year round – now you get the picture). Despite this, I have seen many pictures of Lev Tahor children and not one of them looks to be malnourished. In the midst of all the hysteria about childhood obesity, I find it ironic that these parents are being demonized for keeping their children's weight in check with a healthy diet.
Lastly, even if all of these allegations were absolutely true and reasons for concern, the trauma of a child being separated from his or her parents, and the known failure of the cold and uncaring foster system to provide a healthy and loving environment for children in their care, far outweigh any perceived improvements in the education, nutrition and hygiene of these children. This should give pause to any intelligent human being who thinks the government is acting with these kids' best interests at heart.
So why is this group so demonized and hated, especially by the Orthodox Jewish community?
Many of us tend to smugly separate ourselves from this group by giving them the arbitrary label "cult," because they seem so foreign and different to us and our traditions. Notably, the fact that the women in the group wear Muslim-looking hair coverings somehow ignites some sort of primal hatred for them among many in the Jewish community.
While I don't agree with their insular and extreme way of life, I wouldn't dare suggest that I have any right to tell them how to live – the same way I would not accept a secular American telling me that I was too insular and extreme and that I had to change my way of life.
We have to remember, and I cannot reiterate this enough, the non-Jews cannot tell the difference between us and Lev Tahor. The slight difference in dress is meaningless to them. We are all "extremist fanatics" to them, as the recent controversies regarding Shchita and Metzitza B'Peh illustrate.
And to those who insist that the group is a "cult," I ask: What makes them a cult? Is it because they follow every word their leader says with unquestioning devotion? If yes, then Lubavitch (at least until 27 Adar, 1992) falls under the same category. Is it because they dress differently? So do we. Is it because they are insular? So are we.
Let's also not forget that the Alter Rebbe was demonized and hounded by the mainstream Lithuanian Jewish community in the late 18th century because of the changes he and his followers were instituting to what was until then mainstream Jewish tradition. They labeled him and his Chasidim a "cult," and had him arrested by the Czar's soldiers. These Jews sincerely believed that they were saving Judaism from the threat of a group of wayward heretics.
Here's a thought exercise: Picture for a moment what it would feel like if government authorities showed up at your door and declared that they were taking your children away so that they could be "properly" educated, fed and cared for according to approved government standards.
Now channel that feeling and do something for these poor Jewish fathers, mothers and children – our brothers and sisters – who are about to be torn apart by the cruel and indifferent bureaucrats of Quebec's morally corrupt government, who are notorious for their continued oppression of religious minorities.
Write to the Bev Shipley, the Minister of Parliament representing Chatam-Kent: bev.shipley@parl.gc.ca and to Chatham-Kent Children's Services Board of Directors: board@ckcs.on.ca. Write to the Quebec Child Protection Services: sylvie.godin@cdpdj.gc.ca. Tell them that the days of Jewish children being stolen away from their parents for "proper education" were supposed to have ended with the repeal of the Cantonist Decree in 19th Century Czarist Russia, not reoccurring in 2014 Canada.
**********
P.S. I have submitted the following update to my op-ed in response to some of the comments. Here are a few points that I believe need to be clarified:
To those claiming that the children in Lev Tahor are physically abused:
There is zero evidence to support any of these accusations, and trust me the CPS authorities were looking for it. There is a concept of innocence until guilt is proven, which seems to be lost on some of the people commenting here.
Furthermore, even if some reports of abuse in the community are true (and I don't think they are), what does that have to do with these particular children? Their parents were never accused of physical abuse. Do you mean to suggest that the whole community bears collective guilt? That is a dangerous concept and absolutely foreign to any modern-day justice system (outside North Korea).
Do you think children aren't abused in Crown Heights? I have some sad news for you about that. Does that make you responsible as a member of the community?
So if you think that the accusations being thrown around justify the removal of these children, let's pretend for a moment that I'm a New York CPS official. Here's how our conversation would go:
"I hereby accuse you of abusing your children. I have no proof, but it's well known that there is some child abuse going on in the Crown Heights community. No need for any court case or due process. I'll just be at your door to pick up your kids at 4:00."
Are you OK with that happening to you? If not, don't be OK with it happening to others.
To those who say Lev Tahor is a "cult:"
You keep throwing that word around as if it has some magical powers that make people's right to religious freedom disappear.
Please explain to me, what makes them a cult? How are they any different than Chabad in its early history? Let's see… charismatic leader who everyone follows unquestioningly? Check. Dress differently and more modestly than most other Jews? Check. More stringent than other Jews regarding the observance of Mitzvos? Check. Unique customs? Check. Everyone else calling them a cult? Check.
To those who say Lev Tahor is acting against Halacha:
First of all, since when is that grounds to have your children removed in Canada?
Second of all, in what alternative universe is being more stringent with Mitzvos and dressing more Tzniusdik against Halacha? Are Lubavitchers who don't use sugar or oil on Pesach violating Halacha? And where in Halacha does it say that Jewish men must wear a black Fedora and frock coat? Must be a violation.
It reminds me of the saying: "Whoever is more religious than me is a fanatic, and whoever is less religious than me is a heretic." It would be funnier if we weren't talking about the separation of young children from their loving parents.
To those who say I should have published my name:
It's amazing how you don't see the irony in the fact that you yourself haven't posted your name.
Publishing anonymously is perfectly acceptable when dealing with controversial and sensitive subjects. Many important historical documents, such as the Federalist Papers, were published anonymously for this reason.
Demanding that an author reveal his/her identity is just an intimidation tactic, meant to scare dissidents into silence.
To those who are saying it's OK because the children will be put with Frum foster families:
Let's put aside for a moment that you are completely missing the point here, namely – that removing these children is traumatic for them and heartbreaking for their parents, and that neither the children nor their parents deserve this.
Are you so completely self absorbed that you see nothing wrong with other people's children being seized as long as they are brought up with your values? Do their values matter at all? Who decided that your way of life is better than theirs?
If your children were taken away and placed with a "frum" family that didn't keep Cholov Yisroel, would you be OK with that?
To those who keep repeating that the leader of Lev Tahor is a convicted criminal:
First of all: So was the Alter Rebbe, the Mitteler Rebbe and the Frierdiker Rebbe, to name a few.
The teenage boy who Rabbi Helbrans allegedly "kidnapped" denies that he was ever kidnapped. He willingly left his non-religious parents and joined Lev Tahor. He had every right to do that, and Rabbi Helbrans was under no moral obligation to force him to return home.
Dina D'Malchusa Dina only applies to laws that don't contradict Torah.
Second of all: none of this has anything to do with the children who were seized. They are not Rabbi Helbrans' children, and there is no place for "guilt by association" in a modern day justice system.
In summary:
I do not endorse Lev Tahor's way of life. I don't agree with them about their interpretation of Jewish law. I'm merely defending their inalienable right to live in peace and not be persecuted for their religious practices – a right that many people in my community seem to take for granted.