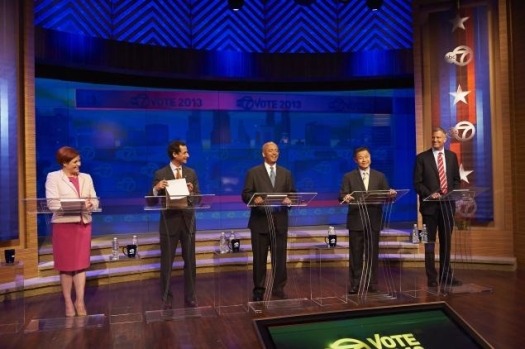 Today is primary day in New York City. Each party will be picking their candidates for the general election, which will be held November 5th.
Some of my friends have been asking me, whom I think they should support in the Democratic primaries. I thought it would be nice to share my view on the primary election from the perspective of an average voter in Crown Heights.
The following is whom I, as just an average voter in Crown Heights, will be supporting in today's primary, and why I think you should support them as well:
Mayor: Bill Thompson
Bill Thompson is probably the friendliest candidate (in the Democratic field) to the Jewish community.
Compared to his counterparts, he is a political moderate, and would therefore think twice before hurting New Yorkers with extremely progressive, job killing policies.
From all the Democrats on the field, Bill Thompson by far is most fit to be mayor. Therefore I will be supporting Bill Thompson for Mayor of NYC (D) nomination.
Comptroller: Scott Stringer
Why support Scott Stringer? Very simple: We cannot allow his opponent, Eliot Spitzer, to win.
You probably know that Eliot was forced to resign over a prostitution scandal, but what a lot of people don't is this: Before Eliot became governor, he was infamous for prosecuting people for prostitution. These people were thrown into prison for the very same crimes he committed as governor…. Yep, he is probably the biggest hypocrite to ever live in the governor's mansion.
Allowing him to win would be worse then embarrassing! Therefore I will be supporting Scott Stringer for Comptroller (D) nomination.
City Council: Ede Fox
Ede Fox is not my ideal candidate, but there's one area where she stands out: She has a plan to ease the cost of tuition. Unlike other similar political promises, this one sounds like it might be realistic.
Ede is not just making empty promises; she has a plan on how we can attain government support, and yet at the same time she seems to have a good grasp of reality and what it would take to gain the political support for such a plan.
I believe Ede is our best chance at solving the tuition crisis. Therefore I support Ede Fox for the City Council (D) nomination.
Brooklyn DA: Ken Thompson
Ken Thompson is not the most ideal candidate. But his opponent, Charles Hynes, has done a terrible job when it came to prosecuting and publicizing child abusers. When he faced political heat for his abuse of power, he blamed us, the entire Jewish community, for his own immoral behavior. He called us the Mafia, the worst Mafia, the most complex Mafia. How can Charles Hynes blame his own immoral behavior on us?!
As if his handling of child abuse cases weren't enough, he has ruined countless lives by his gross mishandling of many other cases.
Unlike the other races I've mentioned; this race will literally affect people's lives. Therefore, I support Ken Thompson for Brooklyn DA (D) nomination.
No matter who you support in today's primary, make sure to come out and vote. Exercise your rights! Allow your voice to be heard! And most of all, have fun voting for your favorite candidates.