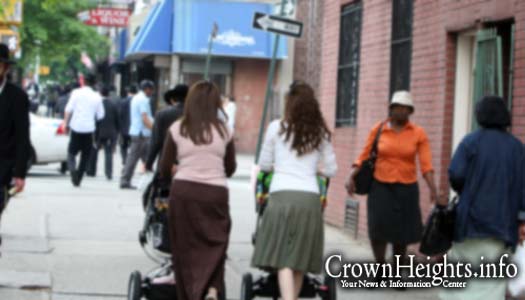 Op-Ed: 'Chabad Lite'
by Doe Namay
In Lubavitch there is the phenomenon of the so called "Chabad Lite" community. People who grew up as Lubavitchers, consider themselves Lubavitchers, but do nothing to actually be Lubavitch. They don't dress like the way a Lubavitcher would dress, speak the way one would speak, or act in the basic way a chossid would act. In general, I have no issue with these types of people; many of them are my friends and neighbors and we get along wonderfully. I have one major issue: they consider themselves Lubavitch, and take part in our mosdos.

You may ask: "why can't they be Lubavitchers if that is what they consider themselves?"
My question to you is, if someone buys a pair of military fatigues from the clothing store, is he a special-ops soldier? If he claims he is, saying: "look, I even have the clothes," You would laugh at him. One is not considered a special-ops soldier simply by calling himself one, nor by owning of a uniform. There are training procedures that have to be fulfilled, as well as constant vigilance and the strict following of rules.
In Lubavitch we are the same. Just because one wears a sirtuk does not make him a Lubavitcher. The Rebbe set out guidelines of what he wanted his chassidim to look like and what type of lives he wanted them to lead.
For the moment, put aside the issue of the simple chillul shaim Lubavitch that such people make – I am not here to defend the name of Lubavitch. I am writing this to defend the integrity of out communities, of our children and of our future.
What happens in Lubavitch schools that have kids from these so called "Chabad Lite" families? There is much confusion. It creates many, many issues.
I live in Los Angeles. Here, we Baruch Hashem have a flourishing cheder together with a wonderful girls school. Now, what happens when your daughter comes home from school wondering why her friend doesn't dress the way her teacher taught? Why her friend's "Mommy" doesn't cover her hair and wears skirts that are way too short?
Don't kid yourselves, these questions are being asked! It used to be that when questions like that were asked, a parent was able to answer their child that their friend was part of a different community, more modern, not Chabad, etc. Nowadays, however, that distinction is gone! These are our friends and neighbors! These are our children's classmates! The way it influences the children is horrible! How is a parent supposed to explain to their child why her friend and classmate doesn't dress tzniusdik?
The problem is found in the boys' schools as well. You have children coming from homes where television is allowed and they literally corrupt their classmates! Here I have major issue with the schools as well! The Polishe-chassidishe school here in town makes parents sign a document that if they find out that the child has a television in their home the kid will be thrown out of school. The litvisher school makes parents sign a paper that they will not allow their children to watch TV on school nights, and in general the school discourages television. The one school in town for fully frum children that doesn't have such a policy: the Lubavitcher school. Why? Our Rebbe was so clear about how he felt about television and there are countless sichos about it, but for some reason schools are afraid to "use" the Rebbe as a reason. Why not just say it how it is? We are Lubavitchers, our Rebbe said this is not allowed, and it is therefore not acceptable!?
The other issue is the parents. Why do they send their kids to our schools? Do they not realize that we, the Lubavitch community at large, holds to higher standards? Do they not realize the message they teach at home does not coincide with what their kids are being taught at school? Why can't they have the decency to start their own school, or send their kids to a school which educates the children the way the parents lead their lives? Why do they feel the right to push their way of living on others, to corrupt others' children? Don't they realize that they are giving their kids a mixed message? They are basically saying, "do as I say, not as I do." Is this fair to their children?
Yes, I am expecting many haters in the comments, and I will try to preempt a few of them by answering questions they will raise:
1) Lubavitch is about ahavas yisroel? My answer: Connection? I love those people as brothers, as Jews. That does not mean I have to stoop to their level. The Rebbe was never for lowering our standards in order to bring others closer. Loving them has nothing to do with not accepting their way of life.
2) What about baalei teshuva? How can we make baalei teshuva and yet not tolerate these people. My answer: A baal teshuva is someone who is in the process of going up. These people are in the process of going down. Even with baalei teshuva, often times shluchim will open schools for their communities but not send their own children there. The simple reason being, that those kids are not yet on the level that they want their own kids to be.
In conclusion, all I want is for these groups of so called "Chabad Lite / Modern Orthodox Lubavitchers" (a term which in and of itself does not make any sense, as it is an oxymoron) to detach themselves from the mainstream Lubavitch community. They can call themselves "Modern Orthodox" or "Friends of Chabad." In truth, they can even call themselves Lubavitchers, but they should separate themselves from us. They can live their lives however they want to; I draw the line, however, when they try forcing their lifestyle upon others.