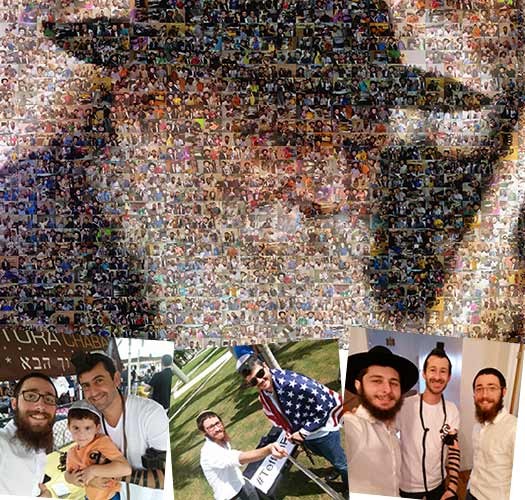 Two Lubavitcher Bochurim have combined over 1,500 of their own Mivtzoim encounters into an amazing collage depicting a portrait of the Rebbe.
Over the course of two years, Adam Nesenoff and Leibel Khazanovich often went out on Mivtzoim both together and individually putting on Tefillin with thousands of people and taking 'Tefillin Selfies' as part of a campaign to encourage others to do the same.
"The truth is that we have more [pictures], but this is made up of the images I had readily available on my computer" said Adam Nesenoff. Leibel Khazanovich, who spent countless hours compiling the images for this portrait, said "The portrait is a special gift we put together in honor of Yud Alef Nissan, the day of the Rebbe's 114th birthday."
"The beauty of this photo is that it is made up of individual photos of people that were each spoken to, inspired and wrapped with Tefillin. This was how the Rebbe lived his life and established Shlichus – by making a big impact through touching Jews one at a time," said Adam Nesenoff.
"When you zoom in it is really incredible, even for myself, that this beautiful image of the Rebbe is truly made up of so many people putting on Tefillin, and it really personifies the Rebbe," said Nesenoff, adding "One time a few years ago while on Merkos Shlichus someone asked me 'how do you account for Chabad's success?' At first I said the success is accounted for in the millions of Jews, then I said that actually it is really measured by the one on one interactions with individuals that amass to the millions."
Both Nesenoff and Khazanovich added that this portrait of the Rebbe represents just the beginning of their shlichus and hope to meet many more thousands of Jews and inspire them as well. They both pointed out that the trick for getting so many Jews to put on Tefillin is simply always carrying it with them wherever they go. That way if they happen to meet a Jew they are able to offer (surprisingly most Jews are very receptive and appreciative.) They encourage and challenge others to try to carry around Tefillin for a set time to easily increase in the amount of Jews putting on Tefillin in honor of the Rebbe's birthday.