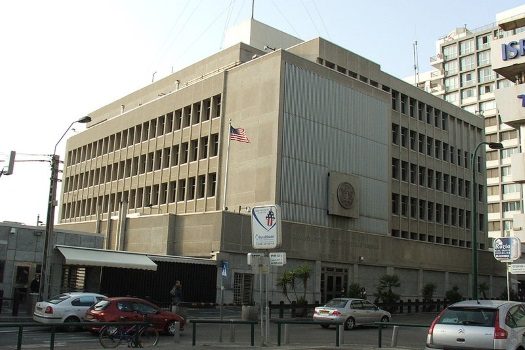 The American embassy in Tel Aviv
From the Jerusalem Post:
US President Donald Trump may formally recognize Jerusalem as Israel's capital early next week and direct his staff to prepare for moving the embassy to Jerusalem, Channel 2 News reported Wednesday night.
The report, to which there was no immediate confirmation, followed a speech US Vice President Mike Pence gave a day earlier in which he said that Trump was "actively considering" the step.
"While for the past 20 years, Congress and successive administrations have expressed a willingness to move our embassy, as we speak, President Donald Trump is actively considering when and how to move the American Embassy in Israel from Tel Aviv to Jerusalem," Pence said at an event celebrating the 70th anniversary of the UN vote on the Partition Plan.