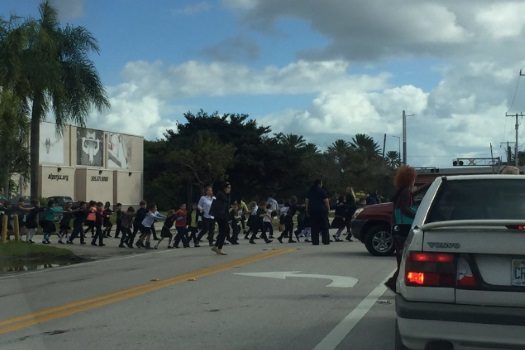 Emergency evacuation underway at Alper JCC Jewish Day School in Miami.
Thousands of Jewish students across the United States and the UK are being sent home today amid a flurry of bomb threats that have been leveled against Jewish day schools in Florida, Tennessee, Maryland, South Carolina, California and London.
As of now, none of the threats have materialized, but police are taking them very seriously and are evacuating every location that has been threatened until they have been swept by bomb squads and K-9 Units.
This is a developing story. It will be updated with more information as it becomes available.
Click the links below for more details:
http://wsvn.com/news/local/possible-explosion-in-southwest-miami-dade-prompts-preschool-evacuation/
http://www.tennessean.com/story/news/2017/01/09/bomb-threat-reported-jordan-jcc-nashville/96347108/
http://www.jewishpress.com/news/breaking-news/bomb-threats-prompt-evacuation-of-jewish-community-centers-in-4-states/2017/01/09/
https://www.thejc.com/news/uk-news/school-bomb-threat-1.430294
http://www.theyeshivaworld.com/news/headlines-breaking-stories/510238/multiple-jewish-schools-in-multiple-states-evacuated-after-threats.html