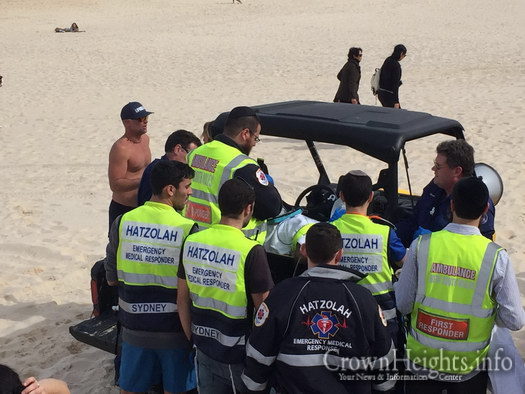 Sydney Hatzalah Rescues 7 Drowning Vacationers
A massive Kiddush Hashem unfold on a Sydney beach today when Hatzalah volunteers were the first to respond to an emergency in which seven vacationing students were drowning in the ocean.
The volunteers helped administer first aid and transported the seven young men to the hospital for emergency treatment. Five of them are expected to make a full recovery, while another two remain in critical condition.
A local news outlet reports:
At around 12.30pm two students who were wading at the ocean's edge got into trouble after the surf pulled them into deeper waters.
Other students attempted to rescue them, however it's believed they also got into trouble.
Lifeguards from Bondi managed to rescue all involved and resuscitation was commenced on two of the young males.
NSW Ambulance dispatched local community first responders, in additional to their primary care units.
Haztolah responders assisted lifeguards and an off ED Nurse who was at the beach at the time assisted with airway management on the most serious patient.
The students were on a two week trip from Indonesia. A student said this was their first time to Bondi Beach.
They were told they could wade in the shallow sea, but were not permitted to enter the surf.
Inspector Norm Spalding said in an interview, that the students were lucky to have year round lifeguards patrolling Bondi.
Six of the students were transported to Sydney Children's Hospital, whilst the most serious patient was taken to St Vincent's Hospital.
Click here to view a video news report of the incident (Tznius warning).