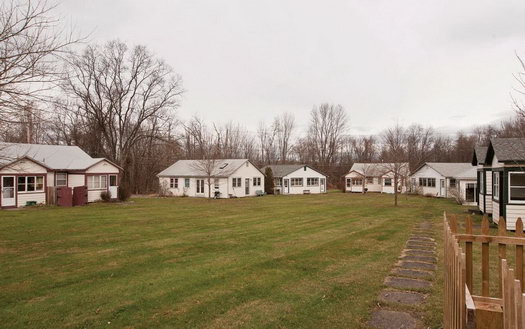 Illustration photo
In response to the increasing number of Orthodox Jews frequenting bungalows in Fallsburg, NY, during the summer months, the town has passed new zoning regulations to make it less inviting for families, reports The Jewish Week.
The legislation is clear about its purpose: "It is the intent of the Town of Fallsburg to not promote the expansion of bungalow colonies."
Under the new zoning legislation, replacement cabins cannot be bigger than the previous cabin; a colony can only be built on less than 15 percent of its lot; there must be 250 feet between the road and the cabin (an increase of 75 feet); and 31 feet of grass is now required between cabins as well. Other towns such as Mamakating, Bethel, Thompson and Liberty have followed suit, enacting similar zoning laws.
A year-round Jewish resident of Fallsburg explained the attitude of the locals, saying, "There's a distinct attitude – the town wishes someone else would come." The meta-message is the locals want people who are not Orthodox, the resident said. Such sentiments have been expressed by the town's planning board. "Without any embarrassment, they say that. I stopped going to the planning board because I'm kind of disgusted." Another long-time Orthodox resident and business owner, Murray Goldwag, who has traveled to South Fallsburg each summer for 39 years, said, "Nothing's changed. The goyim don't want the Jewish interference. . . ."
Some 77,547 residents live in Sullivan County year-round. Ten percent are Jewish. But when summer rolls around, those numbers quadruple with Jews returning to their summer homes, Orthodox bungalow colonies, and close to 100 Orthodox summer camps. Sullivan County's Economic Development Corporation claims the summer population "can reach 300,000 at its peak," as is evidenced by 15 Orthodox minyanim each morning every 20 minutes, with more at night, as well as, 11 mikvahs and a 500-page Orthodox phone directory.
Yet once the summer ends, the bungalows and summer homes empty out, rendering the local counties a ghost town for another 10 months. Now, year-round residents are calling for a permanent end to bungalows. "It would be better to attract new middle-class families with good, affordable year-round housing" where people would "commute to New York City instead of just visiting for the summer." Moreover, there are concerns that the wooden bungalows are fire hazards and aesthetically unattractive.  "Enough is enough," said Monticello attorney Steve Kurlander. "There are enough bungalows in the Catskills as it is."
In an interview with Newsweek, one non-Jewish resident said the zoning fight in Bloomingburg is about, "All these chasids have their own private places around here. They've got their own camps and s—t . . . and they pull off their drug deals. And the state police can't go on the properties because they're 'religious.' That's where all the f———deals take place. You know what I'm saying?"
At least one Fallsburg real estate agent came to the defense of the Jews and their bungalows, saying, "The Orthodox community, that's who's buying. They pay taxes, even though they don't use the schools or any facilities other than water and sewer. They pay a lot of money into the town, so why give them a hard time?" In fact, tax revenues increase to more than a million dollars during the summer when the Jews are in town, but locals still say they prefer to shop on Saturdays while the Jews are not clogging their roadways and are observing the Sabbath.
Prior to the mass exodus to the mountains this summer, a letter was distributed in the Orthodox community warning people to be sensitive  to all those "who live here all year-round that are not accustomed to the heimeshe city way of life. They are used to a quiet, country atmosphere, and are not overly excited about the changes that the summer brings. They are not aware of the sweetness of the Torah way, and when they look at us, they have no way of seeing the inner beauty of a Torah Jew. . . . We are quick to be branded as unwelcome intruders. . . .Whether driving, shopping, out at the park. . . . let's not leave room to be accused of anything improper. . . .Nobody wants — chas v'sholom to make a chillul Hashem, but without a little precaution it is often automatic. . . ."
Goldwag says he understands the resentment. "It's just the standard 'We hate the Jews who come up here.' Why? Well, in one shot, you move Williamsburg and Boro Park into the Catskills. They'll triple-park anywhere, speed through crosswalks, pick up hitchhikers in the middle of the road, make U-turns on Route 42 – chutzpadik and dangerous . . . others are not respectful of the locals. . . .so you hear [when the season begins], 'Oh, they're coming back again."