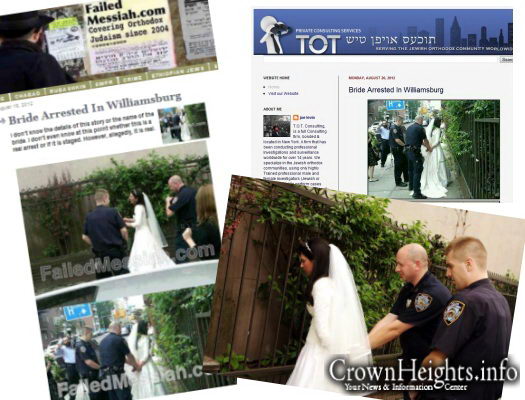 Was a Kallah Arrested During Her Wedding?
A storm erupted on the Jewish blogosphere last night, when photos emerged of what appeared to be New York City police officers arresting a Kallah in her wedding gown.

While many commenters on these blogs expressed skepticism that the photos were real – it looks like everyone is smiling, and the wedding photographer can be seen in the background snapping away – Shmarya Rosenberg, a blogger who likes to stir up trouble where little exists, insisted that they weren't staged.
After a little investigation of our own, it turns out that indeed the police would not stoop this low.
During her photo shoot, the Kallah asked the passing officers to pose as if they were arresting her for some extra hip wedding photos, and the good humored officers were happy to oblige.
As these photos clearly demonstrate…