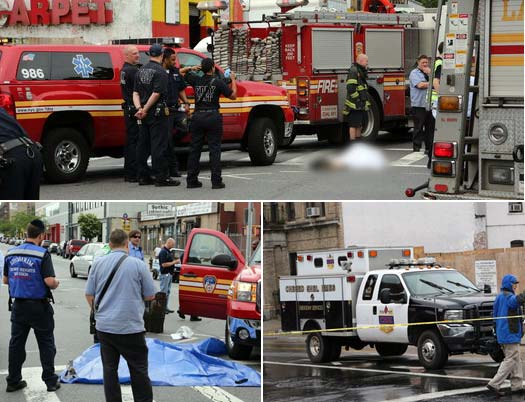 Tragic Accident Claims Cyclist's Life on Empire Blvd.
CROWN HEIGHTS [CHI] — A Jewish woman in her early 20s died after being struck by a truck as she was crossing an Empire Boulevard intersection this morning.

The incident occurred at around 11:00 AM at the intersection of Empire Boulevard and Bedford Avenue, in front of the eyes of horrified witnesses.
Witnesses said that the cyclist was traveling down Bedford Ave. from Montgomery St., and the truck had been making left turn onto Empire Blvd. from Bedford Ave. The driver, who was visibly shaken, told CrownHeights.info that "she was just coming so fast and I was already into the turn; I just could not stop".
The victim was run over by both the front and rear tires of the truck, and was pronounced dead at the scene by Hatzolah. According to rescue personnel, the victim was a student at City Tech and was apparently on her way to school.
Chesed Shel Emes and Shomrim were called to the scene, and once the NYPD Highway Accident Investigation Squad completed their investigation they proceeded to give the proper Kavod Hames and cleaned up the scene.
The name of the victim has not been released pending proper family notification.
No criminality was suspect to be involved, and no arrests were made at the scene.
Update: The victim has been identified as Emma Blumstein, 24.
Boruch Dayan Ha'emes