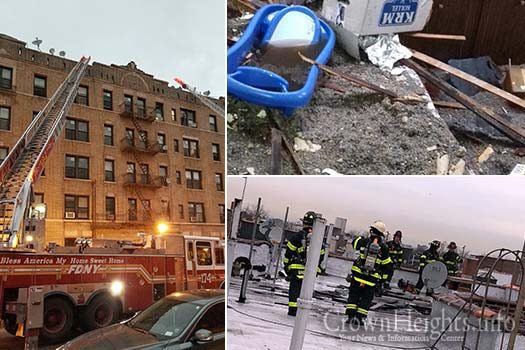 A fire in the top floor of a five story apartment building took 45 minutes to get under control and destroyed the apartments of two families. A fundraiser has been launched.
The fire broke out at around 7:00am on the top floor of 1625 President Street, which is a five story apartment building. The fire spread rapidly, forcing firefighters to designate it as a 2nd alarm, and took nearly an hour to place under control.
Thankfully there were no reported injuries to residents or firefighters.
A total of 3 adults and 7 children were displaced due to the damage their apartments suffered as result of the fire and the efforts to put it out.
"The Yechezkeli family got out with literally just the cloths on their backs," one neighbor told CrownHeights.info. "They have been left without a place to stay and all their belongings have been destroyed."
"For now neighbors have taken them in for Shabbos, but they need to replace nearly everything," he added.
A fundraiser has been launched to assist them in the immediate short term and the public is requested to help. You can Click Here to visit the GoFundMe page to donate. The fund is being overseen by Mendy Hershkop and Yosef Lewis.
Sources in the Fire Department said that the cause of the fire is being investigated by the fire marshals.