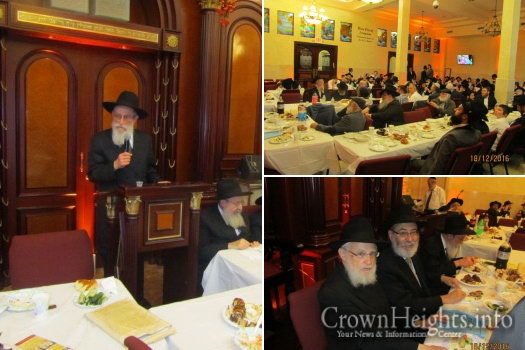 Hundreds gathered at Anshei Lubavitch of Miami for a Yud Tes Kislev celebration with renowned guest speaker and Chasid Rabbi Shmuel Lew, who has been a Chabad Shliach and educator in London, England, for over forty-eight years.
Anshei Lubavitch of Greater Miami sponsored this year's Yud Tes Kislev celebration which was held at The Capt. Hyman P. Galbut Jewish Learning Center-Chabad in Miami Beach.
A Siyum HaShas was made by Rabbi Yehuda Leib Schapiro, Rosh Yeshiva of Yeshiva Gedolah Miami Beach and Rav of Bais Menachem of Miami Beach.
Presiding over the celebration was the Head Shliach to the State of Florida, Rabbi Avrohom Korf, and Director of Anshei Lubavitch of Greater Miami, Rabbi Dovid Shapiro and Rabbi Yitzchock Teitelbaum.
Anshei Lubavitch can be reached online at www.ansheilubavitch.com. The Jewish Learning Center web site is www.jlconline.org.