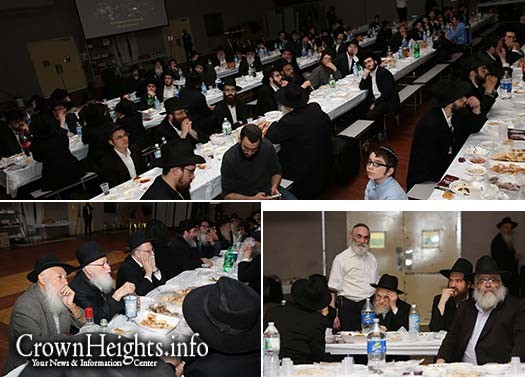 The central Yud Alef Nissan Farbrengen, marking the Rebbes 113th birthday, was held last night in the ballroom of Beis Rivkah on Lefferts Avenue with the attendance of Anash and Bochrim. The event was also broadcasted live with hundreds in attendance.
Among those who spoke was Rabbi Avrohom Shemtov, Chairman of Aguch; Rabbi Yossi Nemes, Shliach in New Orleans, LA; Rabbi Sholom Ber Lipskar, Shliach in Bal Harbour, FL; Rabbi Eli Wolff, Kfar Chabad, Israel; Rabbi Mendel Raskin, Montreal, Canada; and Rabbi Sholom Moshe Paltiel, Shliach in Port Washington, NY.
The live broadcast was hosted by Chabad.org and carried here on CrownHeights.info.