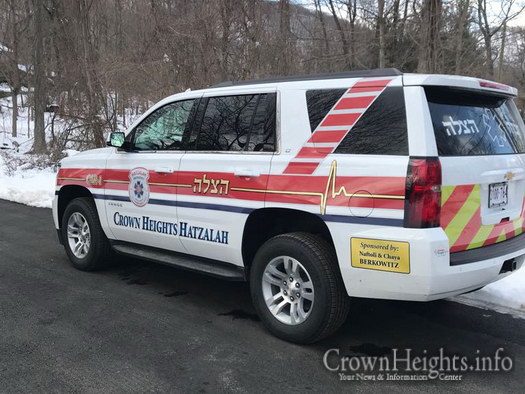 Hatzalah's Fly Car Gets Upgraded
by CrownHeights.info
After faithfully serving the volunteers of Hatzalah over the last three years, and assisting in rendering medical help to hundreds – if not thousands – of people, their Ford Explorer 'Fly Car' is being retired and replaced with a newer and larger vehicle.
Introduced in 2015, Naftali and Chaya Berkowitz donated the cost of the lease of the now retiring vehicle which was used as a first responder vehicle in an effort to get advanced lifesaving measures to victims quicker.
The introduction of a 'Fly Car' was an new experiment for Crown Heights Hatzlah, one which proved very effective. In cases where advanced life support may have been needed, volunteers no longer had to wait for an ambulance to bring some of that equipment to the patient.
"One of the concerns with the [Explorer] was space," Berkowitz told CrownHeights.info. "The old SUV was just a little too small, so when it came time to order a new one, we went bigger."
The incoming 'Fly Car' is a 2018 Chevrolet Tahoe, which offers nearly 40% more space than the previous one. The vehicle was leased through Leasing Direct in Crown Heights with the costs once again being sponsored by the Berkowitzs'.
The new Tahoe is set to arrive in Crown Heights in the coming weeks.