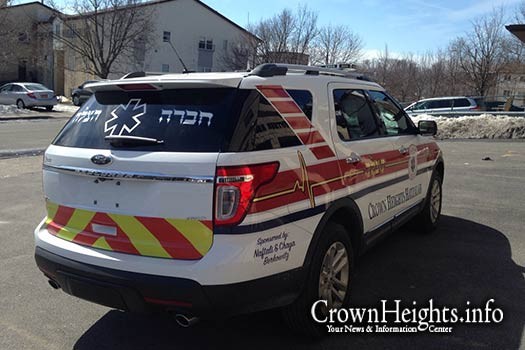 A brand-new, state-of-the-art 'fly-car' is on its way to Crown Heights, where it will join the fleet of vehicles being operated by the dedicated volunteers of Hatzalah. The vehicle's purpose is to hasten emergency response times, when often every second counts.
The vehicle will be outfitted with the latest life-saving technology and equipment, and will be occupied at all times – 24 hours a day, 7 days a week – by Hatzalah volunteers, who will operate it in shifts – saving them the time and energy required to find parking after each call.
This is the first such vehicle to be operated by the Crown Heights division of Hatzalah; similar vehicles are already in operation in Borough Park and Williamsburg.
The vehicle was generously donated by Crown Heights Community member Naftali Berkowitz.
In an interview with CrownHeights.info, Berkowitz explained what inspired him to make the donation:
"I used to frequently accompany and elderly neighbor of mine to the hospital for treatment when his only daughter was away, and I befriended the Hatzalah volunteers who would transport him there," he began.
"It struck me that these men are busy fathers, workers and businessmen like the rest of us, yet when they receive a call that someone is in need – whether for a minor injury or a life-and-death emergency – they drop everything and run.
"I have seen them interrupt dinner with their family, their sleep at night, a simcha; even at the recent Mordecahi Ben David concert, a call came in during the show and several volunteers got up and ran out – despite the fact that they had paid hefty sums for their tickets.
"Though the volunteers are thrilled to do the Mitzva," Naftali continued, "it often is very difficult for them to find parking for their vehicles upon returning from a call, especially late at night. The several minutes they dedicated to helping someone in need can quickly turn into hours as they search in vain for parking in close enough proximity.
"What this vehicle does is eliminates the need for them to ever look for parking, as it is constantly in use and ready to speed to wherever it is needed.
Naftali continued: "The work they do is often taken for granted, but I believe that we have an obligation to supply them with the very best equipment and technology, and this vehicle will shave off precious minutes from their response times to life-and-death emergencies – when every second counts," he concluded.
The vehicle is currently on its way to Crown Heights for delivery, and – if it arrives in time – community members may catch a first glimpse of the vehicle parked in front of 770 this Shabbos.