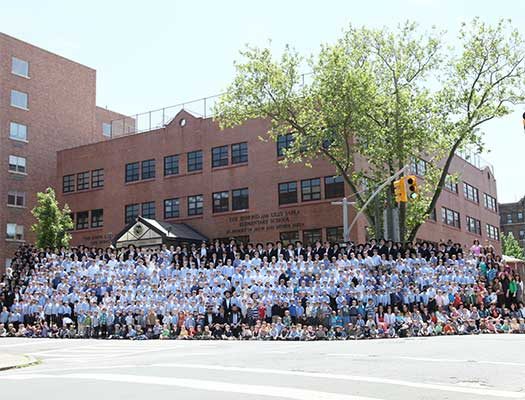 Crown Heights' second largest boys' school, United Lubavitcher Yeshiva on Crown Street, has filed plans for a much-needed expansion of their existing building, with the intention of adding up to three stories above the existing structure.
by CrownHeights.info Staff
United Lubavitcher Yeshiva on Crown Street filed plans with the city's Department of Buildings to expand their school building from the existing three stories to six stories, adding much-needed space for students and classrooms, and thereby also addressing the chronic lack of available space in the neighborhood's boys' schools.
The cornerstone for the building was laid in 1988, and its construction was completed soon after. The building was built with future plans to expand as the need would arise.
Plans indicate that the building would be enlarged by three stories, adding a library, offices, study and lecture halls, as well as classrooms that would be able to accommodate some 700 people. The existing roof play area would be rebuilt on the new roof.
The building's size would be increased from 44,000 square feet to 90,000 square feet, and go from being 26 feet tall to 83 feet tall.
Construction plans indicate that the projected cost of the renovation would be just shy of $2 million.
Crews were seen recently taking soil samples around the school in order to determine ground density for the safety of such an enlargement.