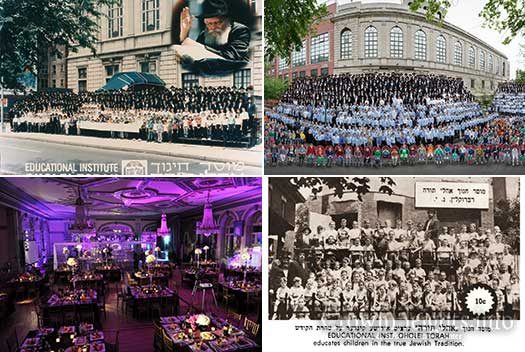 Marking Oholei Torah's 60th anniversary, the institution will be honoring 60 of its alumni at their annual gala dinnir. They were all nominated through a voting campaign which took place around election time.
Upon escaping a vibrant European Jewry torn apart by Nazi atrocities to arrive in a deteriorating Jewish community threatened by American modernity, the Frierdiker Rebbe famously pronounced "America is nisht anderesh—America is no different".
Today, on the 9th of Adar, 77 years since that defiant proclamation, Oholei Torah Educational Institute announces a list of 60 alumni to be recognized at an upcoming dinner for their tireless efforts in ensuring the materialization of this vision.
Oholei Torah's Gala Dinner, culminating the school's 60 year anniversary celebrations, will be held on Sunday, 3rd of Sivan – 28th of May, in the Ballrooms of Oholei Torah Center. The 60 alumni were nominated through a voting campaign beginning at the Kinus HaShluchim, and, despite the diverse fields they currently find themselves in – some Shlichus, some Rabbonus, some Chinuch and others business – they are united by the burning passion to be lamplighters and inspire others that was instilled within each one of them.
"The impact of Oholei Torah reaches every single home in the Chabad community worldwide," said Rabbi Joseph Rosenfeld, Oholei Torah's longstanding Executive Director. "The 60 years of Oholei Torah celebrates our success in producing results that are consistent and absolutely vital to the Rebbe's vision of Uforatzta – spreading yiddishkeit throughout the world."
Rabbi Nosson Blumes, Oholei Torah's Director of Development, is the coordinator of this event. "It's both amazing and heartwarming to see the accomplishments of these alumni," he said. "The ties they have with Oholei Torah are still strong, and continue to inspire their activities."
The Board of Directors of Oholei Torah hope to see many alumni, parents, friends, and supporters participate and show their support for this unprecedented Gala Event. For more information please contact 60@oholeitorah.com
Nominees:
Shmuel Altein
Director, Jewish Learning Institute
Winnipeg
Canada
Gershon Avtzon
Founder and Rosh Yeshiva, Yeshivas Lubavitch
Cincinnati
Ohio
Mendel Azimov
Director, Beth Loubavitch
Paris
France
Yechiel Baitelman
Director, Chabad of Richmond
Richmond
Canada
Manis Barash
Director, Chabad Maharal Center
Prague
Czech Republic
Yosef Yitzchok Baumgarten
Founder, Unzer Shul, Crown Heights
Brooklyn
New York
Mendy Begun
Associate Rabbi, Tiferet Lubavitch
St. Paulo
Brazil
Yissachar Shlomo Bistritzky
Co-Director, Chabad Lubawitsch Hamburg
Hamburg
Germany
Dov Ber Blau
Teacher, Oholei Torah Elementary School
Brooklyn
New York
Chaim Block
Director, Chabad Of San Antonio
San Antonio
Texas
Yehuda Butman
Director, Chabad of Ramat Hasharon
Ramat Hasharon
Israel
Menachem M. Chanin
Owner, Reliable Fast Cash Company
Brooklyn
New York
Shlomo Chein
Director, Chabad of University of California
S. Cruz
California
Yossi Cunin
Chabad of Beverly Hills
Beverly Hills
California
Zalman Yuda Deitsch, a"h
Dedicated by his children, Oholei Torah Graduates
Brooklyn
New York
Zalman Moshe Drizin
Director, Chabad of Kings Highway
Brooklyn
New York
Mordechai Dubrawsky
Rabbi, Chabad of Rishon L'tzion
Rishon L'tzion
Israel
Mendel Duchman
CEO, Nonie of Beverly Hills
Los Angeles
California
Eli Schulman
Student Shliach, Melbourne Yeshiva Gedolah
Melbourne
Australia
Avraham Fried(man)
Renown Chassidic Singer
Brooklyn
New York
Yossi Friedman
Director of Research, Fidelity Industries
Brooklyn
New York
Shimon Fruendlich
Rabbi, Founder, Chabad of Beijing
Beijing
China
Menachem M. Gluckowsky
Rabbi,  Chabad Beis Din of Israel
Rechovot
Israel
Mendy Greenbaum
Dean, Cheder Menachem
Los Angeles
California
Avremel Hartman
Director, Chabad House,
Ho Chi Minh
Vietnam
Alexander Heppenheimer
Engineer, Axway Computer Services
Brooklyn
New York
Gedalya Hertz
Assistant Rabbi and Youth Director
Alpharetta
Georgia
Gavriel Holtzberg, Hy"d
Founder, Chabad of Mumbai, China
Mumbai
India
Shlomo Horowitz
Teacher, Talmudical Seminary Oholei Torah
Brooklyn
New York
Usher Jacobson
Rabbi, The Chevra Synagogue
Hempstead
Canada
Menachem M. Junik
Rabbi, Beis Gavriel Synagogue
London
England
Yossi Kamman
Director, The Derher Publications
Brooklyn
New York
Yosef Y. Kazen, a"h
Founder, Chabad in Cyberspace/Chabad.org
Brooklyn
New York
Mendy Kotlarsky
Executive Director, Merkos 302,

Chabad Lubavitch

Brooklyn
New York
Yaakov Lang
Real Estate Investor
Brooklyn
New York
Binyomin Levin
Sales Manager, Wells Fargo Mortgage
Brooklyn
New York
Dovid Levin
Teacher, Oholei Torah Mesivta/High School
Brooklyn
New York
Mendy Lipskier
Owner, Lipskier Real Estate
Brooklyn
New York
Motty Lipskier
Director, The Beis Medrash of Crown Heights,
Brooklyn
New York
Eli Loebenstein
Broker, AH Realty Company
Brooklyn
New York
Berel Majeski
Director, Friendship Circle of Brooklyn
Brooklyn
New York
Neiach Majeski
Director, Chabad of Ghana
Accra
Ghana
Yossi Pinson
Owner, Wellspring Corporate Housing
Los Angeles
California
Chaim Raitport
Rabbi, Chabad House
Caracas
Venezuela
Laizer Raksin
Transportation Associate, Oholei Torah
Brooklyn
New York
Dovid Roitblatt
CEO, Better Accounting Solutions
Brooklyn
New York
Menachem M Sabbach
Director, Chabad of New Caledonia
Noumea
New Caledonia
Yosef Salamon
Chief Rabbi, Bulgaria
Sofia
Bulgaria
Yisroel Schanowitz
Rabbi, Chabad of Summerlin
Las Vegas
Nevada
Yossi Shemtov
Director, Chabad of Tucson
Tucson
Arizona
Eliyahu Schusterman
Director, Chabad Intown
Atlanta
Georgia
Eli Slavin
Community Liaison, US Congress Member Hon. Yvette D Clarke
Brooklyn
New York
Shimon Susskind
Director, Chabad Jewish Center
Vernon Hills
Illinois
Yosef Y. Swerdlov
Chabad Hospitality Services of Israel
Jerusalem
Israel
Berry Tzfasman
Manager, Tzfaman Jewelers
Brooklyn
NY
Menachem M. Weitman
Director, The Jewish Latin Center
New York
New York
Boruch Wolf
Director, Chabad Medical Center and Kidney Assist
New Hyde Park
New York
Levi Wolff
Rabbi, Central Synagogue
Sydney
Australia
Dovid Zaklikowski
Writer and Director of Lubavitch Archives
Brooklyn
New York
Mendel Zarchi
Director, Chabad Lubavitch of Puerto Rico
Carolina
Puerto Rico